WASHINGTON (Sputnik) — The United States is against a conflict with North Korea, however, it is not ruling out new broader UN sanctions against the country because of its missile and nuclear programs, US State Secretary Rex Tillerson said Saturday.
"The first steps are the UN sanctions. There are broader sanctions that we can consider. I think that there are additional actions that the UN, that we can consider. There are broader participation by other countries in putting pressure on North Korea," Tillerson told the Independent Journal Review news website, answering the question about possible ways to deter North Korea.
Washington does not want a conflict with North Korea, the US state secretary noted, adding that the main aim is to deliver this message to Pyongyang.
"In terms of the urgency right now is to ensure that the regime of Pyongyang has heard the message. That's why we've tried to be very clear and succinct with the message, which is, first, we do not intend to be a threat to you. We do not want to have a conflict with you. We want you to change your direction. And we want others in the region to help us help them [North Korea] make a different decision," Tillerson stressed.
The US state secretary emphasized that the United States would like to see the Korean peninsula without any nuclear weapons, but added it might become necessary to consider Japan becoming a nuclear power if the situation unfolded unfavorably.
"Our objective is a denuclearized Korean peninsula. A denuclearized Korean peninsula negates any thought or need for Japan to have nuclear weapons. … But we cannot predict the future. So we do think it's important that everyone in the region has a clear understanding that circumstances could evolve to the point that for mutual deterrence reasons, we might have to consider that," Tillerson specified.
Tillerson also called on China to work together with the United States toward the denuclearization of the Korean peninsula.
"Let's denuclearize the peninsula. That has been China's stated policy for more than two decades — is a denuclearized Korean peninsula. They need to help solve this," Tillerson emphasized.
On Saturday, Tillerson arrived in Beijing with an official visit to meet with China's top officials as part of his first trip to East Asia and the Pacific region. The trip is primarily focused on coordinating response to North Korea's nuclear threat.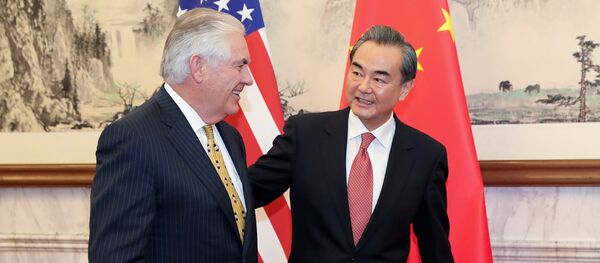 North Korea declared itself a nuclear power in 2005. The United States, Japan and South Korea, as well as Russia and China, took part in talks with Pyongyang between 2003 and 2009 on denuclearizing the Korean peninsula, but North Korea withdrew from the talks.
Since the beginning of 2016, North Korea carried out a number of missile launches and nuclear tests, with the latest being the launch of four missiles in the direction of the Sea of Japan, conducted on March 6, 2017, leading to escalation of tensions on the peninsula.
On Friday, following the statement of the US ambassador to United Nations that the United States did not want to get back to six-party talks, Tillerson warned that all options were on the table in dealing with Pyongyang, including military intervention.