MOSCOW, March 20 (Sputnik) — Argaman stressed that the goal of Israeli authorities was to ensure every citizen has a quiet Passover, celebrated on April 11-18.
"We are just before the Passover holiday, and there is no doubt that terrorist infrastructures, mostly the established one, and specifically Hamas, will try to agitate the area and carry out attacks," Nadav Argaman, Shin Bet's Chief Officer, stated during his address to the Israeli parliament's Foreign Affairs and Defense Committee, according to the Jerusalem Times.
"I have to say that the quiet we have been experiencing since 2016 — this comparative quiet — is a misleading quiet, it deceives and intoxicates, and this is for one simple reason: The terrorist infrastructures of Hamas and the global jihad are working every day to carry out terror attacks within the State of Israel," Argaman pointed out.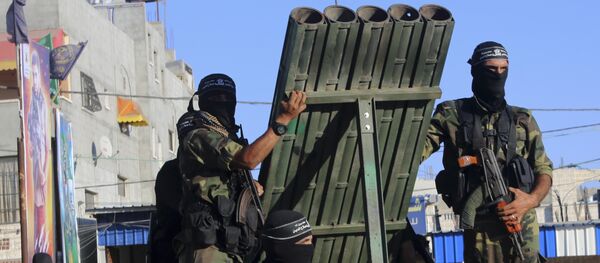 According to the Shin Bet chief, in 2016 the Israeli authorities prevented 400 potential assailants from carrying out attacks. Still, 16 Israelis and one foreign national died as a result of terror attacks, Argaman added.
Shin Bet named January as the deadliest month for Israel since June 2016, with a total of 100 terrorist attacks recorded in the month. With this concern in mind, Israeli security forces have increased their efforts to detain members of Hamas and other militant groups, and uncover the sites of sale and production of illegal weapons.
Israel classifies Hamas as a terrorist movement, accusing it of attacking the country's territory. Hamas, in turn, seeks an independent Palestinian state and strives for Israel's withdrawal from its territories, such as the West Bank.