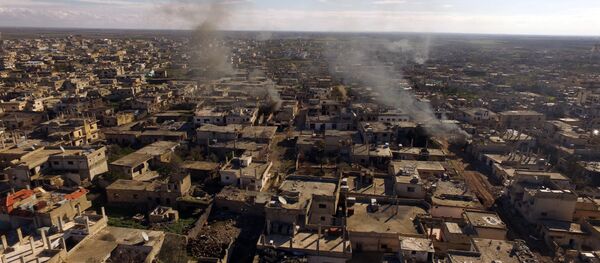 DAMASCUS (Sputnik) — Militants from the Jabhat Fatah al Sham (formerly known as al-Nusra Front) terrorist group, as well as allied groups, have attacked several villages to the north of the city of Hama in Syria, killing over two dozen people, a security source told Sputnik.
"Militants [of the Jabhat Fatah al Sham group] staged a massacre in the village of Majdal north of Hama. Twenty five civilians were killed, women and children among them," the source said.
A nationwide ceasefire was introduced in Syria in December 2016, with Russian being one of its guarantors. Terrorist groups, such as Jabhat Fatah al Sham and Islamic State (ISIL, also known as Daesh), are not part of the deal.
The armed groups that are not observing the ceasefire in Syria shelled civilian districts in Damascus on Wednesday.
The shelling of the civilian quarters of Damascus was carried out against the backdrop of the Syrian Army's offensive in the eastern and northeastern suburbs of the capital.
Hama is located 213 kilometers (132 miles) north of Damascus.