"Electrical currents accelerate a sliding metal conductor" between two rails to fire massive projectiles at extremely high speeds, the Office of Naval Research said. The electrical currents are so powerful they create a magnetic field to give the rounds more speed, according to the ONR. Military strategists estimate that the gun will bring a "100+ nautical mile capability."
The "kinetic energy warhead" contains no explosives, which ousts the risks posed by ships carrying bombs that could detonate onboard, the Navy said.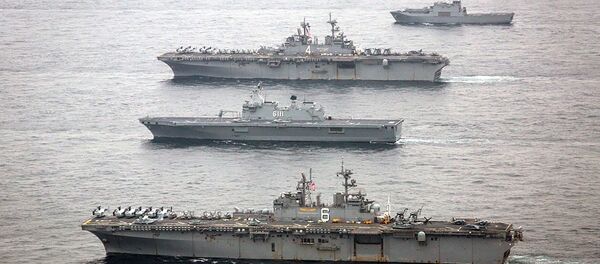 The gun creates energy by storing electricity in a pulsed power system before sending a pulse to the gun, which creates the "electromagnetic" force propelling the round at high speeds. 
The electromagnetic weapon is intended to serve sailors across a wide range of missions, including but not limited to ship-to-ship strikes, fire support, land strikes, naval vessel defense, and "surface warfare to deter enemy vessels." The project has been in the works since 2005, but the Navy has finally tested what it calls a "game changer" for US ships on the open seas. 
A video of the gun shows a large BAE Systems logo featured prominently. Given that BAE Systems is a British defense firm, it stands to reason that the railgun could enter service with the British Royal Navy at some point, too.