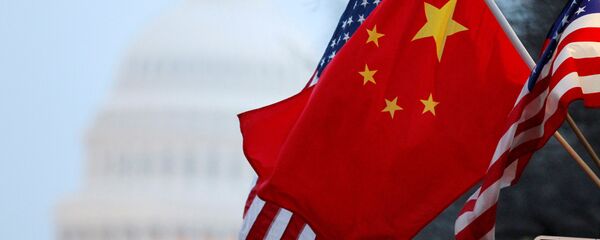 MOSCOW (Sputnik)
–
Li arrived in Australia on Wednesday in what is the first visit of a sitting Chinese premier to the country in over a decade. The premier will participate in talks on security and free trade with Australia's Prime Minister Malcolm Turnbull.
"I come here for free trade. We cannot deny that in the process of globalisation there are some problems. But this is not the issue of globalisation per se, it is not an issue of free trade, it is all about how to respond to it. We cannot close our doors. That is not the solution. So, I am here to discuss how we can further upgrade our free trade area, how we can build further consensus, in particular investment and trade in services. We want to continue to open up," Li said, addressing the Australian parliament, as quoted by the CCTV broadcaster.
The Chinese premier also assured the Australian parliament that his nation was not seeking global dominance and warned against splitting the world along geopolitical boundaries.
The leaders are set to have in-depth negotiations on the expansion of a bilateral free trade agreement on Friday.
China has long been an advocate of the Free Trade Area of the Asia-Pacific (FTAAP), involving members of the Asia-Pacific Economic Cooperation (APEC), and promoted negotiations on the Regional Comprehensive Economic Partnership (RCEP) between the Association of Southeast Asian Nations (ASEAN) members and their regional partners – Australia, China, India, Japan, South Korea and New Zealand — but without the United States.
The FTAAP is promoted by Beijing as an alternative to the Trans-Pacific Partnership (TPP) free trade deal, which is signed by Australia, Brunei, Canada, Chile, Japan, Malaysia, Mexico, New Zealand, Peru, Singapore and Vietnam. The TPP's future was put into question after US President Donald Trump signed an executive order withdrawing the United States from the agreement.
Never miss a story again — sign up to our Telegram channel and we'll keep you up to speed!