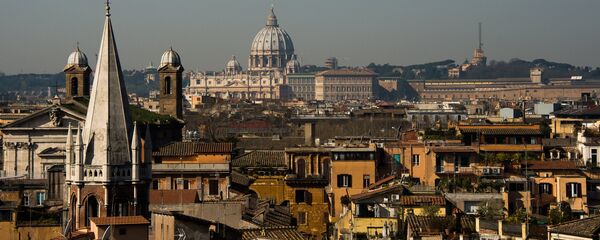 ROME (Sputnik) – Pope Francis has called for unity and solidarity in Europe, meeting with European leaders ahead of the Saturday EU summit in Rome that will mark the 60th anniversary of the Rome Treaties.
"Europe finds new hope in solidarity, which is also the most effective antidote to modern forms of populism. Solidarity entails the awareness of being part of a single body, while at the same time involving a capacity on the part of each member to 'sympathize' with others and with the whole," Pope Francis said on Friday, as quoted by Vatican Radio, addressing the EU heads of state and government.
Pope Francis expressed solidarity with the victims of the Wednesday terror act in London and called for unity among European states.
"There is a need to start thinking once again as Europeans, so as to avert the opposite dangers of a dreary uniformity or the triumph of particularisms. Politics needs this kind of leadership, which avoids appealing to emotions to gain consent, but instead, in a spirit of solidarity and subsidiarity, devises policies that can make the Union as a whole develop harmoniously," Pope Francis said.
During the Saturday summit, EU leaders are expected to sign the Rome declaration, prepared jointly by European Council President Donald Tusk, President of the EU Commission Jean-Claude Juncker, as well as Italian Prime Minister Paolo Gentiloni and Prime Minister of Malta Joseph Muscat. The declaration is expected to focus on the future of the European Union after Brexit (UK leaving the EU), envisioning further work toward economic, social, financial and political unity.