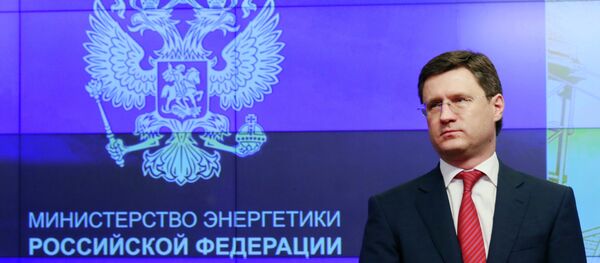 MOSCOW (Sputnik) — Russia and Kuwait during the bilateral meeting have discussed the issues of cooperation in oil-and-gas and electric power engineering industries, Russian Energy Minister Alexander Novak told reporters on Saturday.
"We were able to discuss the issues of bilateral cooperation between our countries in the sphere of energetics, namely oil, gas and electric power engineering industries," Novak said after holding talks with Kuwaiti Oil Minister Issam Abdulmohsen Almarzooq.
"Due to the fact that Kuwait produces a lot of oil — it is one of the leading countries [in this], we have much in common regarding the development of the oil industry…. A number of our [Russian] companies show interest [in projects aiming] to increase oil recovery at Kuwaiti mineral deposits as well as in technology related to the extraction of tight oil, heavy oil," Novak said.
"We have discussed the deliveries of liquefied natural gas to Kuwait. There are bright prospects as Kuwait plans to complete construction of one of the largest regasification terminals in the world by 2020 and this will open a great direction for cooperation in the gas sphere," the minister also said.