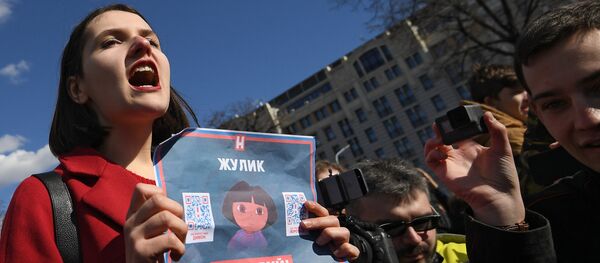 MOSCOW (Sputnik) — Earlier in the day, Navalny was detained in downtown Moscow during the rally he had organized without a permission of Moscow authorities.
"Navalny is now in the Konkovo District Internal Affairs Department. A decision on his one-day detention was taken. The trial will be held tomorrow. Moscow's Tverskoy Court will consider the case initiated under Article 20.2.2, Part 1," Mikhailova said.
Under Article 20.2.2 of the Code of the Russian Federation on Administrative Offenses "Organization of mass simultaneous presence and (or) movement of citizens in public places, which caused violation of public order," Navalny could face a fine of up to 20,000 rubles ($351) or up to 100 hours of community service. Maximum penalty under this article is administrative detention for 15 days.
Police in Moscow have estimated 7,000-8,000 people in the city center participating in an unauthorized protest against corruption on Sunday. The Moscow City Directorate of the Russian Interior Ministry said police officers had detained around 500 people during the demonstration.
The Moscow authorities rejected Navalny's application for an anti-corruption rally in the city center planned for March 26 and proposed activists to hold the demonstration in other districts of the capital. Representatives of the Moscow authorities told Sputnik that Navalny had refused the offer.
On Friday, a representative of the Moscow authorities said that the protest would be considered unauthorized even in case the activists gather in the places offered by the City Hall as the offer was rejected by Navalny.
The Moscow City Directorate of the Interior Ministry released an official warning asking all citizens to abstain from participation in the unlicensed event planned for March 26. The directorate said it had warned the organizers of the event that they would be responsible for safety of people participating in the rally.