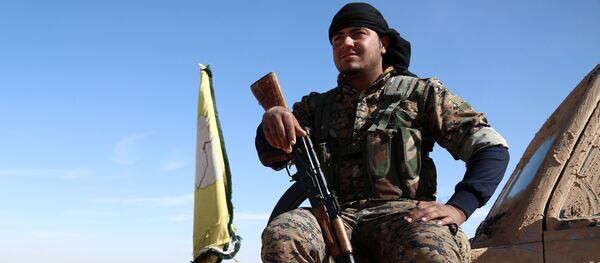 DAMASCUS (Sputnik) – The armed units of the Syrian Democratic Forces (SDF) pushed Sunday the militants of the Islamic State (Daesh) terrorist group out of the military airport, located near the Syrian city of Tabqa, Lebanese Al Mayadeen broadcaster reported, citing its source.
Earlier in the day, the media said the SDF forces planned to seize the city of Tabqa, which is the last big Daesh stronghold on the way to Raqqa, serving as Daesh's de facto capital in Syria since it was captured in 2013.
Sunday fighting between SDF units and Daesh militants inflicted damage to the Tabqa Dam located on the Euphrates river and aimed at holding back the water on the Lake Assad which is the state's biggest reservoir. The SDF did not rush to attack the dam, fearing that the terrorists could blow it up, according to the broadcaster's earlier reports.