According to a Tempe Police Department spokeswoman Josie Montenegro, cited by Reuters, an Uber pilot-program test car flipped over on its side following an accident in which the company's Volvo XC90 sport-utility vehicle was hit by another car, following a failed merge.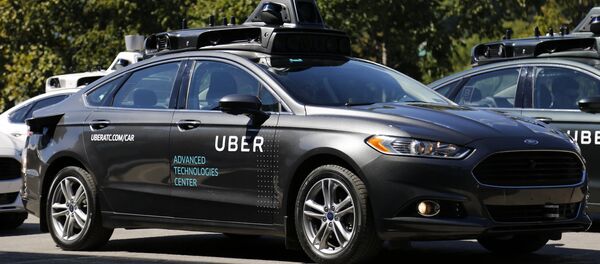 25 February 2017, 00:34 GMT
The Uber car was operating in self-driving mode at the time of the crash, and the two "safety" operators required to be in the car under current law were not hurt.
San Francisco-based Uber confirmed that images claiming to show the result of the accident, with a Volvo lying on its side and two other vehicles with minor damage, were authentic.
The high-profile pilot program shutdown was expanded to include other company locations, including Pittsburg, Pennsylvania, and in San Francisco. The company has been reeling from multiple incidents involving not just its technology programs, but also legal battles, driver payment disputes, and accusations of a corrosive corporate culture that discriminates against women and people of color.
To add fuel to the fire of Uber's problems, its CEO of only seven months, Jeff Jones, stepped down last week, following in the footsteps of several other top-level executive departures.