MOSCOW (Sputnik) — Earlier in the day, the court fined Navalny 20,000 rubles ($350) over organization of the event in violation of Article 20 of the Russian Code of Administrative Offences — violating the procedure established for conducting a meeting, rally, demonstration, procession or picket, which provoked public disorders.
During the court hearing, Navalny denied the accusations and said that the Moscow authorities refused to authorize the event in the center of the city, while alternative options were proposed just before the rally itself. 
"I went [to the rally] — it is my right. There was nothing unauthorized there. Citizens had walked across Tverskaya Street and I was detained for some purpose. I have not violated any law," Navalny said at a Moscow court, adding that he considered the rally could be classified as an "authorized one."
Moscow authorities rejected Navalny's application for holding a rally in the city center, and four days before the event proposed activists to hold it in other parts of the capital. Representatives of Moscow authorities told Sputnik that Navalny had refused the offer.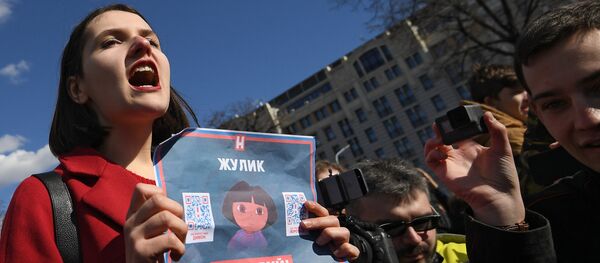 The rally organized by Navalny without a permission of Moscow authorities took place in the Russian capital on Sunday, with estimated 7,000-8,000 people attending and some 600 people, including Navalny,
being detained
by the police.
The Moscow City Directorate of the Interior Ministry released an official warning ahead of the event asking all citizens to abstain from participation in the unlicensed rally. The directorate said it had warned the organizers of the event that they would be responsible for safety of people participating in the rally.
Following the rally, Kremlin spokesman Dmitry Peskov said that law enforcement officials conducted themselves lawfully and professionally in responding to Sunday's Moscow rally. The Kremlin official added that Russia's authorities respected the people's right to express their civil stance but not those who provoke illegal actions.