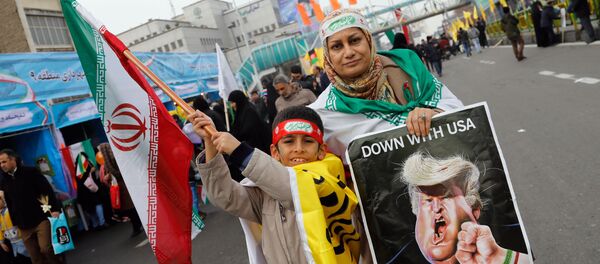 14 February 2017, 13:59 GMT
This punitive measure is apparently meant to show Washington that Tehran will not bow in the face of a host of sanctions imposed against the Islamic Republic.
The sanctions imposed by Tehran target 15 American companies, including BENI Tal, United Technologies Produces, RAYTHEON, ITT Corporation, Re/Max Real Estate, Oshkosh Corporation, Magnum Research Inc, Kahr Arms, M7 Aerospace, Lewis Machine and Tool Company, Daniel Defense, Bushmaster Firearms International, O.F Mossberg & Sons and H-S Precision Inc.
According to a statement issued by the Iranian Foreign Ministry and cited by the Islamic Republic News Agency (IRNA), the sanctions were imposed due to the companies' direct or indirect involvement in "the brutal atrocities committed by the Zionist regime (Israel) in the occupied Palestinian territories," and for the support they provided for "the regime's terrorist activities and Israel's development of Zionist settlements on Palestinian soil against Resolution 2334, adopted by the United Nations Security Council."
The Iranian Foreign Ministry also condemned "the recent measure taken by the United States administration to impose one-sided extraterritorial sanctions against Iranian and non-Iranian individuals and institutions," arguing that the US sanctions were "based on fabricated and illegitimate pretexts and amount to a move against the international regulations as well as the word and spirit of the Joint Comprehensive Plan of Action."
"The Islamic Republic of Iran accepts no restrictions imposed against its efforts to protect its dignity, territorial integrity and the security of the people," the ministry declared.
The sanctioned companies were barred from any agreements with Iranian firms, and their assets in Iran can now be seized by the authorities. Also, the former and current directors of said companies are no longer eligible for Iranian visas.