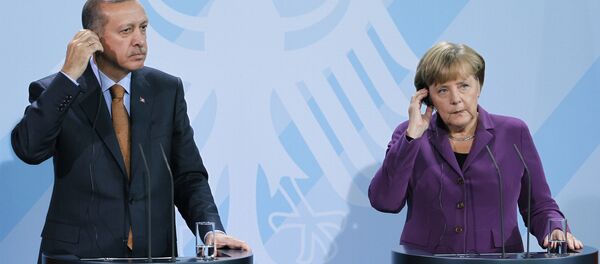 The Ankara-Berlin rumpus had hitherto been purely verbal, and largely one-sided — Chancellor Angela Merkel had been careful to avoid engaging in the incendiary invective employed by President Recep Tayyip Erdogan et al, 
not wanting
 to compromise the European Union's refugee deal with Turkey. 
However, the German government has evidently had enough — officials are scoping alternative locations for Bundeswehr troops currently stationed at a military base in Incirlik, Turkey, with potential options including three sites each in Kuwait and Jordan, and two in Cyprus, Akrotiri and Paphos. The alternative locations have already been visited in-the-flesh by German representatives, to review their "fundamental suitability," although the government stressed "no conversations with respect to possible stationing" had yet been undertaken.
© AP Photo / Emrah Gurel /
A Turkish Air Force warplane takes off from the Incirlik Air Base, in the outskirts of the city of Adana, southeastern Turkey.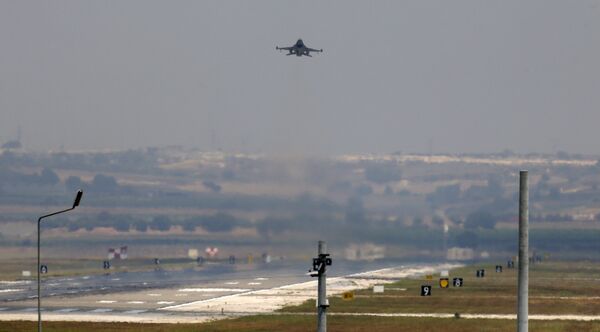 A Turkish Air Force warplane takes off from the Incirlik Air Base, in the outskirts of the city of Adana, southeastern Turkey.
© AP Photo / Emrah Gurel /
The review was exposed following parliamentary enquiries by the Left Party, as well as four politicians from the parliamentary group representing Merkel's Christian Democratic Union and its Bavarian sister, the Christian Social Union. Left politicians reacted strongly, criticizing Merkel's government for not doing more to move troops amid souring ties between Germany and Turkey, and suggesting the review was token and purely symbolic.
"The government obviously has no interest in relocating German armed forces from Incirlik if they have not even had a conversation with the other countries where stationing is possible," said Jan van Aken, Left Party Foreign Affairs spokesperson.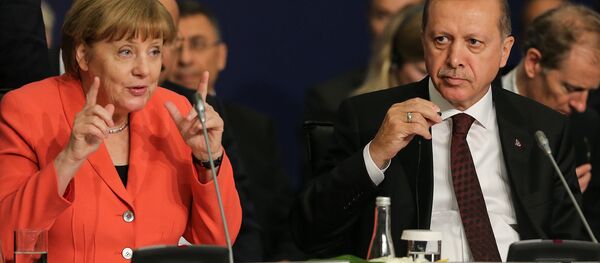 The stationing of German troops in Incirlik has been a contentious issue since June 2016, when German MPs voted on a resolution recognizing the Armenian massacre in the Ottoman Empire as 
genocide
. In response, 
Ankara barred
 German representatives from visiting the military base, with Erdogan accusing Germany of hypocrisy. In a foreshadowing of his subsequent "Nazi" jibes, he said the needed to atone for the Holocaust first before stating their opinion on the issue.
Even though Incirlik, near the town of Adana, is not a NATO facility it is of extreme importance to the alliance, serving as a base for airstrikes on Daesh positions in Iraq and Syria, and playing an important role in coalition actions in Afghanistan.
The US Air Force maintains a large airbase there, with around 2,000 troops and around 250 German soldiers with Tornado reconnaissance planes and a refueling aircraft are also temporarily stationed there. German troops are also stationed at another base in Konya, some 350 kilometers west of Incirlik.
Simultaneously, it was announced the Staatsanwaltschaft (German Prosecutor's Office) had launched an investigation into claims Turkish opposition supporters in Germany are being monitored by authorities in Ankara. 
In January, the German Office for the Protection of the Constitution in North Rhine-Westphalia announced it had found imams at the Turkish-Islamic Union for Religious Affairs (DITIB) had passed on the names of some 28 alleged supporters of exiled Turkish cleric Fethullah Gulen to Turkish officials at their consulates in Cologne, Düsseldorf and Munich. These included a group of teachers in German state schools, which provide Islamic religious education.
In February, Turkish officials handed a list with names, addresses, telephone numbers and photographs of over 300 supporters of US-based cleric Fethullah Gulen — whom Ankara blames for the failed Summer 2016 coup attempt — to Berlin. Merkel said Germany was willing to cooperate, but only if the country had issues of its own with the groups' activities. Germany was quickly established as a popular escape destination for fleeing Turkish officers implicated in the coup, with 149 believed to still be at large in the country.
Now, prosecutors will examine how Turkey managed to compile such detailed information, and whether it maintains surveillance of its own in light of Merkel's reticence.
"Espionage activities on German soil are punishable and not tolerated by us. In this country, German law applies, and citizens living here are not being spied on by foreign states," Interior Minister Thomas de Maiziere said.
It's not merely Germany where Turkey is believed to be spying on critical elements — Swedish Security Police SAPO has claimed Ankara is monitoring Turkish nationals residing there too. Sweden, a nation of 10 million, is home to 75,000 Turkish diaspora, of which 45,000 were born in Turkey.