The US anti-ballistic missile defense (ABM) system is likely to pose a real threat to the Russian low-altitude spacecraft in the near future, experts told RIA Novosti. They believe it may prompt Russia to begin developing similar systems.
Speaking at the Conference on Disarmament in Geneva, the Russian General Staff's Deputy Chief Lt. Gen. Viktor Poznikhir warned that virtually all low Earth orbit space will soon fall within the US global missile defense system's killing zone.
That means that the space activities of any country, including Russia and China, will be under threat, Gen. Poznikhir highlighted.
Speaking to RIA Novosti, Alexey Fenenko, Associate Professor at Moscow State University's World Politics Department, emphasized that the US missile defense system will really threaten the Russian orbital grouping of satellites in the next 10-12 years.
"This could become a threat in just 10-12 years, but Russia, unfortunately, has yet to take action; meanwhile China is developing its own anti-satellite weapons, and we will have to do the same," Fenenko said.

According to Fenenko, the US continues to conduct tests of anti-satellite weapons within the framework of the country's ABM program.
"The first time they tested it was in 1985; the second test was conducted in 2008. In addition, the US national space strategy of 2006 stressed the necessity of creating weapons able to destroy an adversary's satellites as part of US missile defense [capabilities]," the Russian academic explained.
He also recalled that within the framework of its Prompt Global Strike project, the US carried out several unsuccessful attempts to test the so-called "space weapon" — low Earth orbit vehicles. However, following a series of unsuccessful tests, Washington has shifted its focus to anti-satellite systems (ASAT).
Russian military expert and First Vice President of the Academy of Geopolitical Studies Konstantin Sivkov echoes Fenenko, suggesting that the threat posed by the US missile defense may prompt Moscow to develop a system which would be able to hit US low Earth orbit spacecraft at a distance of thousands of kilometers.
"The Americans have carried out tests of their SM-3 missile, and they have managed to shoot down a satellite. We need to create our own missile systems," Sivkov told RIA Novosti.
He specified that Russia needs to design systems which would be able to shoot down satellites at a distance of hundreds or thousands of kilometers.
"The S-500 [Prometey anti-ballistic missile system] was designed as a missile defense system for the theater of war; we need a system that would hit satellites in quasi-stationary orbit drifting a few thousand kilometers above the Earth," Sivkov suggested.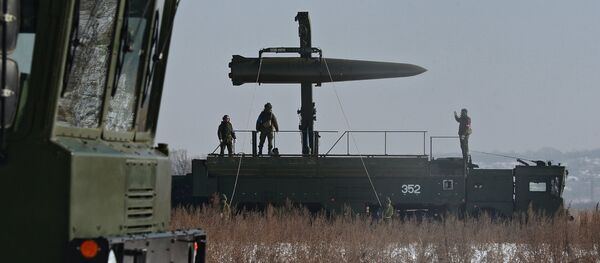 Sivkov emphasized that Russia is currently not involved in developing these systems; however, according to the military analyst, the US efforts to bolster its missile defense may force Russia to kick off such a project.
Previously, in his January interview with RIA Novosti, Sivkov drew attention to US Air Force Gen. John E. Hyten's calls for "deterrence in space."
Gen. Hyten claimed that "in the not-so-distant future" Moscow and Beijing will be able to threaten US spacecraft.
"We have to prevent that and the best way to prevent war is to be prepared for war. So the United States is going to do that, and we're going to make sure that everybody knows we're prepared for war," Hyten said in his speech at Stanford University's Center for Security and Cooperation.
Stressing that Hyten's claims bear no relation to reality, Sivkov warned that the Pentagon is about to start a new arms race.
"In fact this is the way to justify the beginning of the large-scale militarization of space by the United States, under the pretext of a Russian or Chinese threat," the Russian expert stressed.
Never miss a story again — sign up to our Telegram channel and we'll keep you up to speed!