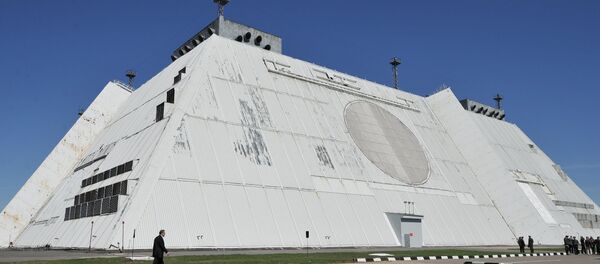 On Monday, Deputy Secretary General of NATO Rose Gottemoeller told the Russian newspaper Kommersant that the deployment of Russia's Iskander mobile short-range ballistic missile system to the
Kaliningrad
region represents a threat to Russia's neighbors.
"Nobody is arguing with the fact that the Kaliningrad region is Russian territory. But the deployment of Iskander missile systems is proof of the trend towards militarization and strengthening of (Russian) control over airspace. Many members of the alliance, Russia's neighbors, consider this a threat to their security," Gottemoeller told Kommersant, in an interview translated to Russian.
Russia transferred the Iskander missile system to Kaliningrad last autumn, in response to NATO's plans for an anti-missile shield stretching from the Black Sea to the Baltics. 
An Aegis Ashore ballistic missile defense system was activated in Romania last May and the US is constructing a second system in Poland. 
© RIA Novosti
Iskander (SS-26 Stone) tactical missile system. INFOgraphics.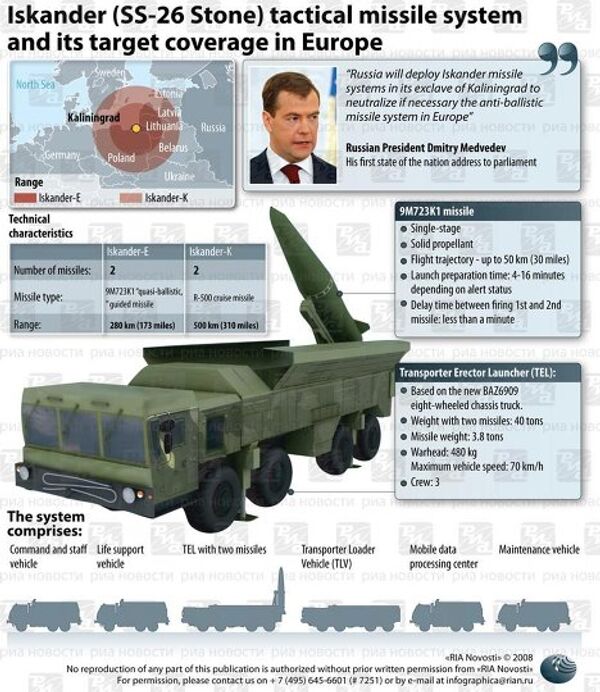 Iskander (SS-26 Stone) tactical missile system. INFOgraphics.
Aleksey Podberezkin, director of the Center for Military-Political Investigations at the Moscow State Institute of International Relations (MGIMO), told Radio Sputnik that Russia's Iskander represents an effective deterrent to the NATO-operated shield of missiles.
"Suffice to say, the flight time (from Kaliningrad) to Warsaw is just over two minutes, and the trajectory of the missile makes it difficult to destroy — it is almost impossible to shoot it down, although the Americans are trying to create such an illusion," Podberezkin said.
"The Iskander as an operational-tactical complex was created in response to the deployment of the US missile defense system, which poses an immediate threat to Russia because these systems can be used as launchers for cruise missiles," Podberezkin said.
"This is not about an inverse threat, because American missile defense systems are located near our borders, but ours are on our own territory."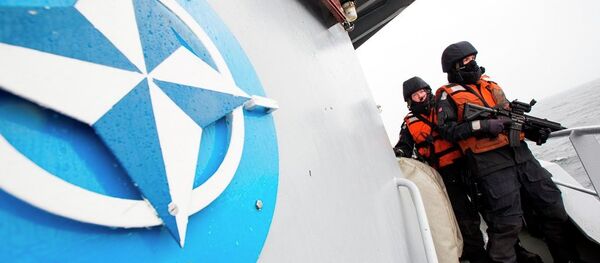 "If we placed Iskander in Cuba for example, that would be an inverse threat: we would have created a threat to the eastern coast of the United States. But the opposite is happening: the Americans started this by deploying missile defense in Eastern Europe."
"Strictly speaking, they should not have done this, if only because the Soviet Union voluntarily liquidated the Warsaw Treaty Organization and the possibility for military confrontation in this region. But they have deployed these American weapons near the Russian borders, and not vice versa," the expert said.
In January, Kremlin spokesman Dmitry Peskov stated that Russia is going to keep the missiles in its western region as a deterrent, for as long as NATO is intent on creating its system of missiles in Europe.
"It is a very complicated issue. You cannot just withdraw those missiles from Kaliningrad without knowing that plans for creating [an] entire missile system are to be abolished on the European continent," Peskov told the BBC.
Never miss a story again — sign up to our Telegram channel and we'll keep you up to speed!