Washington says the Terminal High Altitude Area Defense (THAAD) system was installed to protect Seoul from nuclear attacks from North Korea. The White House has criticized Beijing for not taking a more active role in the effort to end Pyongyang's nuclear development.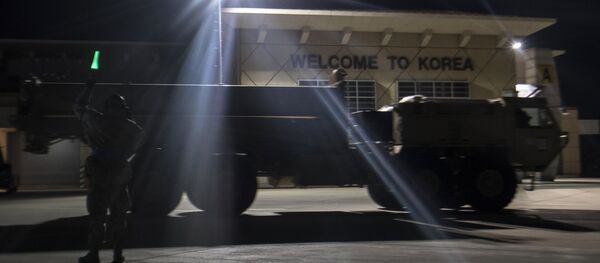 In January, US President Donald Trump wrote on Twitter, "China has been taking out massive amounts of money & wealth from the US in totally one-sided trade, but won't help with North Korea. Nice!"
During a meeting with US Secretary of State Rex Tillerson, Chinese Foreign Minister Wang Yi said China had "devoted a lot of energy and effort over the years" to addressing issues with Pyongyang. Without naming Trump, Wang said, "The tremendous and important efforts that China has made are visible to all," saying that world powers should do what they can to contribute to the denuclearization effort, "including our friends from the United States."
Trump is set to meet with Xi himself on Thursday and Friday at his Mar-a-Lago resort in Palm Beach, Florida, where they will likely discuss North Korea, problems in the South China Sea and trade issues.
THAAD's radar can reach into the Chinese mainland, including areas containing its  intercontinental ballistic missile program, which is currently being rebuilt. The system's chief duty, however, is to engage and neutralize ballistic missiles both within and outside the Earth's atmosphere.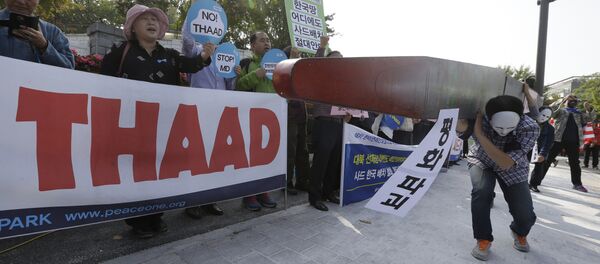 Zhang Baohui, a China expert based in Hong Kong, explained, "It is clear that there is no one in China who really knows the technical capability of THAAD and that's part of the problem … THAAD's full capabilities are secret so there is a real knowledge gap among Chinese strategists. If they are misplaced, they are at least genuine in their concern — they have to assume a worst-case scenario."
In a Sunday interview with the Financial Times, Trump warned that Washington was prepared to deal with Pyongyang with or without China's assistance.
"China has great influence over North Korea. And China will either decide to help us with North Korea, or they won't … If they do, that will be very good for China, and if they don't, it won't be good for anyone," he said from the Oval Office, adding, "If China is not going to solve North Korea, we will. That is all I am telling you."
On Tuesday a White House official told reporters that when it comes to North Korea, "the clock has now run out and all options are on the table."
Trump's impatience may stem from increased threats coming from North Korea as the US and South Korea continue their joint military drills, which Pyongyang feels are aimed at invading the North and removing top leadership, including Supreme Leader Kim Jong-un.
Kim has threatened to reduce the US "to ashes" if Washington conducts a pre-emptive attack.