MOSCOW (Sputnik) — Statements by NATO officials that the actions of the alliance in Eastern Europe and the Baltic states are of a defensive nature do not reflect the real state of affairs, the Russian Foreign Ministry said in a statement Tuesday, commenting on an interview by NATO Deputy Secretary General Rose Gottemoeller with Russia's Kommersant newspaper.
"In particular, it has been said that all efforts of NATO members in the countries of Eastern Europe and the Baltic states are of 'non-threatening, defensive and proportional character.' In fact, this does not reflect the reality," the ministry said in a statement.
The ministry also stressed that by stating that NATO had no plans to strengthen its eastern borders before the outbreak of a conflict in Ukraine Gottemoeller ignored the fact of NATO's expansion to the east after the collapse of the Soviet Union in 1991.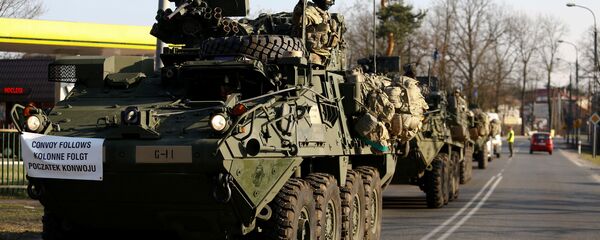 The Czech Republic, Poland and Hungary became members of the alliance in 1999, while Lithuania, Latvia and Estonia joined NATO in 2004.
Following the outbreak of the Ukrainian crisis in 2014, NATO has been boosting its military presence in Europe, particularly in Eastern European states, citing Russia's alleged interference in that conflict as justification for the move. A decision of the alliance to deploy four multinational battalions to Estonia, Latvia, Lithuania and Poland was announced by the alliance's secretary general after the NATO summit in July 2016.
Moscow has repeatedly warned that amassing troops and military equipment on its borders is provocative, violates past NATO pledges, and can lead to regional and global destabilization.