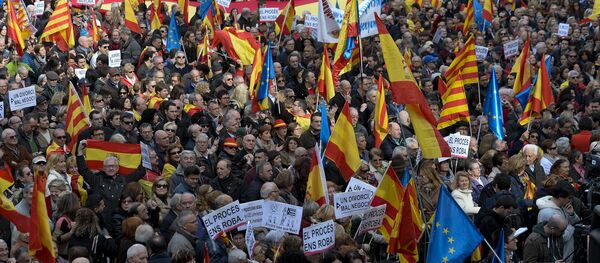 14 February 2017, 17:16 GMT
MADRID (Sputnik) — Spain's Constitutional Court accepted for consideration the Spanish government's appeal against the Generalitat (government) of Catalonia region over the draft budget of the region, which was approved by the Catalan authorities and includes allocations for an independence referendum.
In March, Catalonia approved the draft budget which includes spending on the independence referendum planned to be held this year. According to the budget, a total of 5.8 million euros ($6.2 million) would be spent on preparations for the referendum. The Spanish government decided to challenge the budget and launched a probe into the actions of the Generalitat.
The Constitutional Court now has five months to decide on the issue, but in the time, the provisions of the budget challenged by Spain cannot be implemented.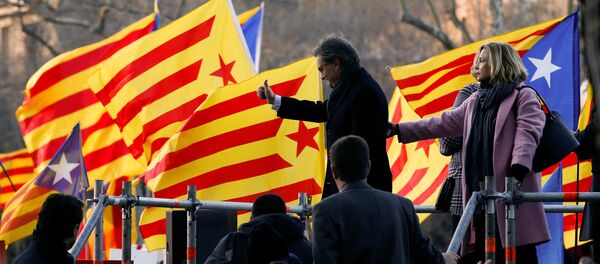 6 February 2017, 11:14 GMT
Catalonia, a Spanish province with an autonomous status, has long sought independence from Spain, but Madrid has repeatedly declined Catalonia's quest for independence. On November 9, 2014, about 80 percent of the Catalans who took part in a non-binding referendum on the region's status as part of Spain voted in favor of Catalonia becoming a separate state.
On October 6, 2016, the parliament of Catalonia approved a resolution stating that the referendum on independence of the autonomous community from Spain should be held no later than September 2017. The Spanish government challenged the resolution, with Spain's Constitutional Court suspending it. President of Catalonia Carles Puigdemont responded to the decision saying that the Catalan authorities would not submit to the court's ruling and would continue preparations for the referendum.