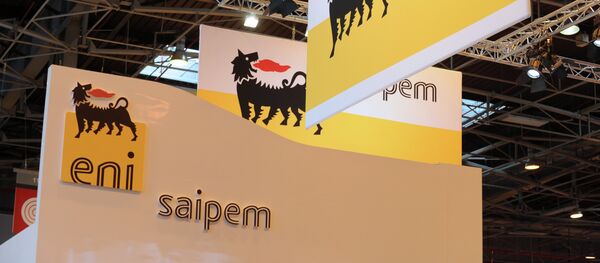 MOSCOW (Sputnik) — Gas deposits were found in the Gamma prospect after Eni drilled in Contract Area D 140 kilometers (87 miles) offshore from Libyan capital Tripoli.
"The well, drilled in 150 metres of water depth, reached a total depth of 2,981 metres (9,780 feet) and encountered gas and condensates in the Metlaoui Group of Eocene age," the company said in a statement.
The new well, which is almost 10 miles to the south west of the Bouri field and over three miles to the north of the Bahr Essalam field, is expected to have a daily output of 7,000 barrel of oil equivalent, or over 1,100 cubic meters of gas.
Drilling of the Gamma prospect will rely on existing gas infrastructure in the area to save costs and provide gas both locally and for export, Eni added.
Eni has been working in Libya since 1959 and pumps out around 350,000 barrels of oil equivalent per day in the country. Its subsidiary Eni North Africa BV is the sole operator of Contract Area D at the exploration stage.