Moreno served as vice president during the first administration of outgoing President Rafael Correa, and is best known for his international advocacy for disability rights, living as a paraplegic since suffering a gunshot to his spine.
​Though he was named for Russian Communist revolutionary leader Vladimir Lenin, Rogatyuk described Moreno as a socialist with an outlook on governing similar to Correa's. 
"When we are talking about Lenin Moreno we are effectively talking of the citizen's revolution's unique mixture of what I would call radical social democracy, mixed with the indigenous 'good living' concept, which basically promotes sustainable living with the promotion of human rights."
After Moreno's victory, his chief rival, banker Guillermo Lasso, demanded a recount, claiming that corruption and fraud had tainted the results.
"This is sickening, we're not going to allow it," Lasso said, claiming Moreno and his camp had "crossed the line" in order to "install an illegal government." Lasso garnered 49 percent of the vote while Moreno edged him out with 51 percent.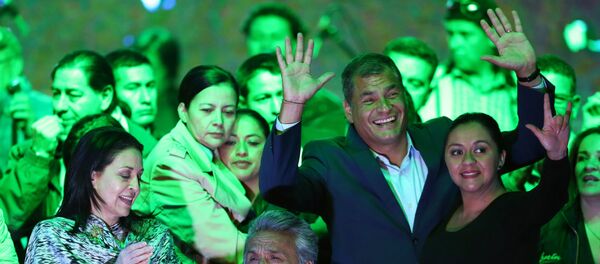 "Crying fraud and refusing to accept electoral results has become the go-to tactic of the right wing all across Latin America," Rogatyuk said, explaining that this precedent was set in Venezuela in 2013, when Henrique Capriles refused to accept his loss to Hugo Chavez, inciting his supporters to riot.
Rogatyuk pointed out that 300 observers from around the world came to oversee Ecuador's election, among them former Uraguayan President Jose "Pepe" Mujica. The elections were found to be free and fair.
Loud and Clear Host Brian Becker noted Lasso's statement that if he won he would, in his words, "cordially invite" WikiLeaks editor Julian Assange to leave the Ecuadorian embassy in London, asking Rogatyuk whether Assange still needed to fear eviction under Moreno.
"I think Julian can breathe a very heavy sigh of relief," he said, adding, "Just yesterday I heard Julian Assange returned the favor and politely asked Guillermo Lasso to leave Ecuador and retire in Panama where Lasso has most of his tax havens and fiscal paradises."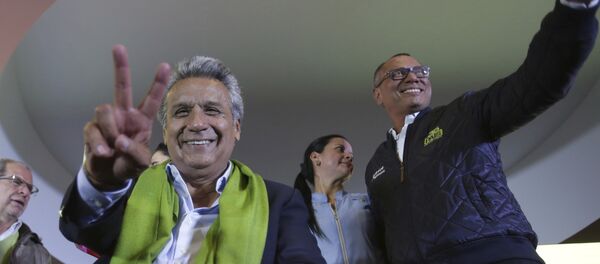 Becker highlighted the rightward shift in Latin American politics in recent years, noting conservative governments assuming power in places like Bolivia, Ecuador, Argentina, Venezuela, Nicaragua, Honduras and Brazil.
He asked Rogatyuk what he thought Moreno's victory could mean for left-wing politics in the region, especially given the recent deaths of Cuban leader Fidel Castro and Venezuelan leader Hugo Chavez.
Rogatyuk said he feels that "Moreno could actually signify a new layer of left-wing leadership across Latin America," because he's "a man who was part of the original team of revolutionaries in Ecuador, but also someone who has a slightly different image, a very humble image, an image that is contrary to absolutely everything that the right-wing presidents in Argentina, in Peru and Brazil look like."