WASHINGTON (Sputnik) — Trump was asked if he believed Rice broke the law if she "unmasked" names in intelligence reports of Trump associates who were surveilled by US intelligence agencies.
"Do I think? Yes, I think," Trump said in an interview with the New York Times.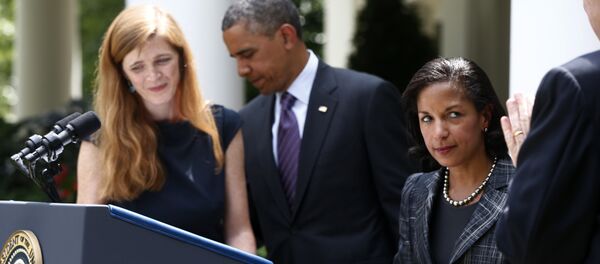 On Sunday evening, author and journalist Mike Cernovich
revealed
that Susan Rice, who served as the National Security Adviser under President Obama, was behind the unmasking of people on President Donald Trump's transition team.
Last month, White House lawyers learned that Rice was the one behind unmasking the names, such as Mike Flynn, whose conversation with a Russian ambassador was later leaked to the media.
Appearing on "PBS NewsHour" in March, Rice was asked about Trump and his team being caught up in incidental intelligence collection, and she denied having any knowledge of it happening.