WASHINGTON (Sputnik) — Syrian opposition claimed Tuesday forces loyal to President Bashar Assad had used a chemical gas on people in the northwestern province, killing nearly 80 and injuring 200. Assad argued his government has no chemical weapons after agreeing to have them destroyed in 2013. He also ruled out having used chemicals against own people.
"A chemical attack that was so horrific in Syria against innocent people — including women, small children and even beautiful little babies — their deaths was an affront to humanity," Trump stated.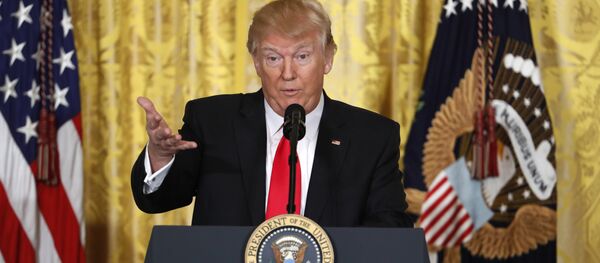 Trump said the "heinous actions by the Assad regime" cannot be tolerated.
"It's very, very possible, and I will tell you it's already happened, that my attitude toward Syria and Assad has changed very much," Trump stated.
""When you kill innocent children, innocent babies with a chemical gas that is so lethal… that crosses many, many lines," Trump stated. "Beyond a red line."
Meanwhile, Jordan's King Abdullah II said that the alleged chemical weapons attack is "another testament to the failure of the international diplomacy to find a solution to this crisis."
Russian Foreign Ministry spokeswoman Maria Zakharova said earlier in the day that the US-UK-France-backed draft resolution on the chemical weapons in Syria is based on fake reports mosty from the White Helmets and the SOHR "which cannot be called reliable."
The Russian Defense Ministry said early Wednesday the airstrike near Khan Shaykhun was carried out by Syrian aircraft, which struck a terrorist warehouse that stored chemical weapons slated for delivery to Iraq.