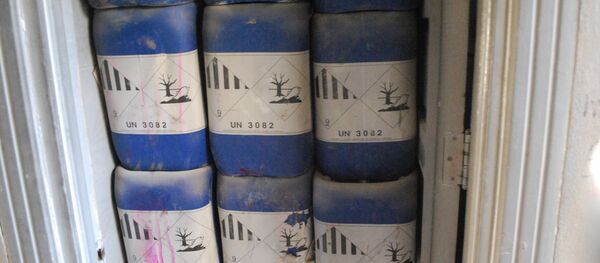 However, it is premature to accuse anyone of using chemical weapons as a probe is needed, Peskov said.
"We would consider a much more balanced approach necessary and do not think it is possible to make some hasty assessments of what happened in the Syrian Idlib province. This is indeed [the Idlib chemical attack] a rather menacing development of events, a really very dangerous and monstrous crime. At the same time, it would be wrong to prematurely attaching labels," Peskov told reporters.
He said that no one, including the United States, had access to that area immediately after the tragedy, so no one could have verified information about what happened.
"Any data possessed by the US side and our colleagues in other countries couldn't have been based on objective data and evidence. We don't consider evidence spread by.. the White Helmets and so on as reliable as this organization has repeatedly compromised itself by using unconfirmed data and information falsifying events."
"Deaths of children is what Russia is trying to prevent in Syria…; and Russia is actively working on it [prevention of child casualties], because only the expulsion of terrorists from the Syrian territory can bring the country back to peace where children will not die," Peskov said when asked to comment on photos of dead children in Syria shown by the US representative at the UN.
"Showing photos can be an important proof of these or that facts, but it can not be so as well, it can be an emotional gesture," he said, adding that earlier different things were demonstrated at the UN Security Council, including "those not just on paper, but in glass containers."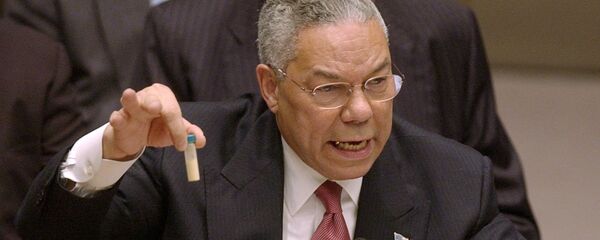 Peskov's remark hinted at then US Secretary of State Colin Powell's demostration of a vial which allegedly proved the existence of weapons of mass destruction in Iraq, which turned out to be a lie, and which led to the invasion of Iraq.
Only terrorists and opponents of Syrian President Bashar Assad could have benefited from the Idlib chemical attack as the Syrian army is winning in all directions, Peskov noted.
"There are forces that are working to de-legitimize the legal leadership of the Syrian Arab Republic, and there are terrorist forces and those who support terrorists," he said when asked who could have benefited from the Idlib attack.
Russia hopes that the Syrian government will work on preventing terrorists from obtaining chemical weapons, he said. He emphasized that all must be done to prevent chemical attacks in the war-torn country.
"We believe that it is absolutely unacceptable to use chemical weapons. We believe that all should be done to prevent the possibility of chemical weapons use in Syria. And of cource, we can hope that the Syrian Armed Forces will take all necessary measures to prevent some substances which can be used as chemical weapons from getting into terrorists' hands and being used by them [terrorists]."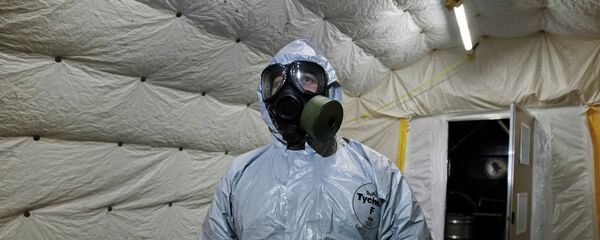 Peskov stressed that "it is impossible to draw conclusions" casting the blame on Damascus in the attack in Khan Shaykhun before an investigation is conducted.
The Kremlin said that disagreements over the reported Idlib attack cannot change the spirit of Russia's cooperation with the US. "Current disagreements, including deep disagreements, are constant companions of Russian-US ties, especially in recent years."
"Even such significant differences as the general assessment of the situation and the causes of the situation in Syria are unlikely to radically change the spirit and nature of our bilateral relations."
On Wednesday, a number of US officials, including President Donald Trump accused Damascus of the Idlib attack. Trump said that the incident "crossed many lines" and "cannot be tolerated, adding that his attitude to Assad has changed.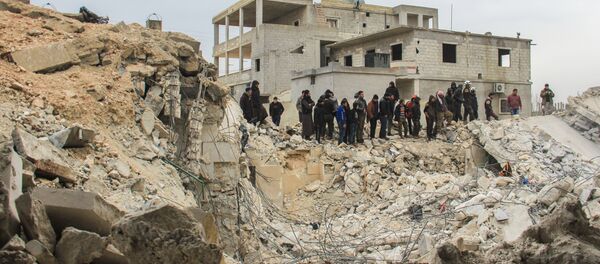 Syrian opposition claimed Tuesday forces loyal to President Bashar Assad had used a chemical gas on people in the northwestern province, killing nearly 80 and injuring 200. Assad argued his government
has no chemical weapons
after agreeing to have them destroyed in 2013. He also ruled out having used chemicals against own people.
Russian Foreign Ministry spokeswoman Maria Zakharova said earlier in the day that the US-UK-France-backed draft resolution on the chemical weapons in Syria is based on fake reports mosty from the White Helmets and the SOHR "which cannot be called reliable."
The Russian Defense Ministry said early Wednesday the airstrike near Khan Shaykhun was carried out by Syrian aircraft, which struck a terrorist warehouse that stored chemical weapons slated for delivery to Iraq.
In 2013, the Syrian authorities agreed to transfer its stockpiled chemical weapons to international control for their subsequent destruction, so as to prevent them from falling into the hands of militants operating in the country.