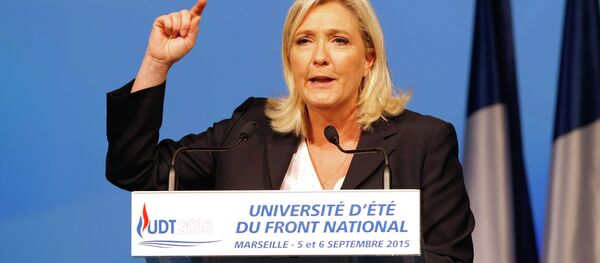 MOSCOW (Sputnik) — In the latest TV debate on Tuesday, the issue of France's place in the European Union was closely addressed, in contrast to the previous debate when Europe was barely mentioned. The first round of debates that took place on April 23 saw eleven candidates express competing visions, with five of them calling for the renegotiation of EU treaties or even the so-called Frexit, and only two of them taking a clearly pro-EU stance.
"At this stage, it certainly only reflects the popular mood among French voters. Any significant shift in French EU policy would need to be more than just a reflection of populist sentiment and require some level of support among the elites as well. The gulf between campaign rhetoric and policy-making would be complex and challenging to cross," Nino Saviano, political strategist and founder of Savi Political Consulting, an international campaign strategy firm, told Sputnik.
Far-right National Front (FN) party leader Marine Le Pen, in line with her previous statements, promised a national debate and a referendum on the issue of France's membership in the European Union. She also claimed she would first try to renegotiate the terms of membership for France with Brussels.
Le Pen said the European Union is "locking France up" and preventing it from moving forward, and by stating that it had failed to "protect the nation," she expressed the desire for France to leave the eurozone and to create a parallel national currency.
The leader of the Euroskeptic Popular Republican Union (UPR) party Francois Asselineau also urged for Frexit. In fact, he called himself "the only true candidate for Frexit," criticizing social and economic aspects of the EU treaties and proposing to trigger Article 50 immediately in the case of his victory.
"There is a very strong sense in France, both on the far-right and far-left, that the EU has developed too easily into a free market and not a social space. Whether that means that there is a strong enough sense of anti-EU sentiment to lead to a full-blown decision to leave the EU is open to question. I am not sure that is the case. France is not Britain. The British were never very good at being Europeans, but France is at the very heart of Europe," Paul Smith, commentator on French politics and associate professor in French and Francophone studies at the University of Nottingham, said.
Leftists Jean-Luc Melenchon, from La France Insoumise (Unsubmissive France) political movement, defended a "concerted exit" from the EU treaties. Jacques Cheminade, head of LaRouche movement, also expressed the desire to implement Article 50 immediately, while Nicolas Dupont-Aignan, Gaullist and souverainist, attacked the freedom of movement of workers inside the European Union and said it needs to be abolished.
"We should not confuse the number of Eurosceptic candidates with the views of the nation," Smith said. "With regard to the pro-EU position of Macron, Hamon and Fillon, let's not forget that together they would probably represent a majority of the French electorate, if the polls are right," he added.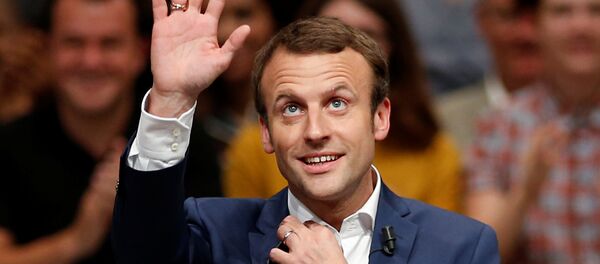 19 January 2017, 21:10 GMT
The independent candidate and former economy minister Emmanuel Macron, who is a front-runner along with Le Pen, called his main rival's proposals an "economic war." "What you are proposing is nationalism," he told Le Pen, adding that leaving the eurozone would cripple French citizens' saving and spending powers.
Francois Fillon, The Republicans' candidate who was a prime minister under president Nicolas Sarkozy, insisted that France needs Europe and said he wants to see "a sovereign France in a sovereign Europe."
Benoit Hamon, member of the Socialist Party and Party of European Socialists, opposed to those who advocated Frexit, but argued that the eurozone needs democratization.
"Among the leading candidates, Le Pen, Macron and even Fillon have had a fairly consistent message throughout. This is a reflection of their longstanding ideology. Others, like Melenchon, may be just trying to jump on the populist bandwagon, shock the electoral race and gain much needed support," Saviano said.
Coming as a surprise performance to many analysts, without any indicators from the campaign trail, was that of former Trotskyist Melenchon, who was found by viewers to be the most convincing out of the 11 candidates, according to a snap poll following Tuesday's debate.
"Melenchon embodies the French left much more so and broadly than Hamon, the Socialist candidate. A former Socialist himself, he's also seen as experienced and presidential by the voters. Plus, the fact that he embraced a bit of populism about the EU could only help him expand his base," Saviano added.
A new Harris Interactive poll showed on Thursday that the French presidential election is turning into a four-way race, with chances of Melenchon pulling ahead noticeably rising. According to the survey, his support has improved by 3.5 percent in two weeks, rising up to 17 percent.
Thus, Melenchon is only 1 percent behind conservative Fillon, who is set to gain support of 18 percent of French voters, according to the poll. Macron is leading with 25 percent of projected voter support, while Le Pen is expected to receive 24 percent.
The first round of the French presidential election will take place on April 23, while the run-off between the two leading contenders is expected for May 7.