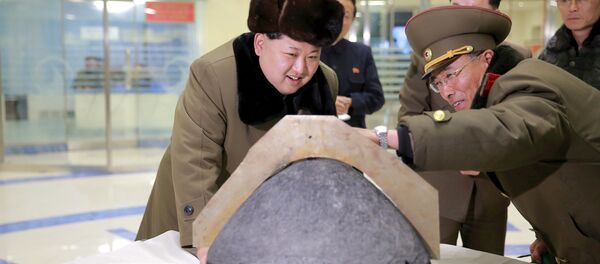 TOKYO (Sputnik) — Japan hopes that the US and Chinese leaders will hold a constructive talks on the North Korean issue during a meeting scheduled for Thursday, Japanese Chief Cabinet Secretary Yoshihide Suga said.
"China has a considerable influence on North Korea, and we hope that [the leaders] will constructively and frankly discuss various issues in order to force North Korea to avoid provocative actions," Suga said, as quoted by the NHK broadcaster.
Chinese President Xi Jinping will visit the Mar-a-Lago estate of US President Donald Trump in Florida on April 6-7.
On Wednesday, North Korea reportedly launched a ballistic missile from Sinpho, South Hamgyong province, in the direction of the Sea of Japan. Media reported, citing a US Defense Department official, that the ballistic missile fired by Pyongyang was a Scud-ER and that it presumably had gone out of control soon after the launch.
According to South Korea's military, the ballistic missile flew a distance of 37 miles and reached an altitude of 117 miles.
North Korea has already carried out several missile test launches this year, in violation of UN resolutions, triggering an escalation of tensions on the peninsula. Last year, Pyongyang carried out two nuclear tests and over two dozen test launches using ballistic missile technology.