WASHINGTON (Sputnik) — On Thursday night, the United States launched 59 Tomahawk cruise missiles at the Syrian military airfield in Ash Sha'irat, located about 40 kilometers (25 miles) from the city of Homs. US President Donald Trump said the attack was a response to the alleged chemical weapon use in Syria's Idlib on Tuesday, which Washington blames on the Syrian government.
"We've got the Middle East that is in chaos, the Europeans being destabilized, spread of ISIS [Daesh] throughout the world, and this is the challenge of Bashar Assad, and then we've also got the challenge of ISIS," McCain told MSNBC. "So there's a lot more to go."
McCain said during the interview that Thursday's missile attack sends a strong message to Syrian President Bashar Assad.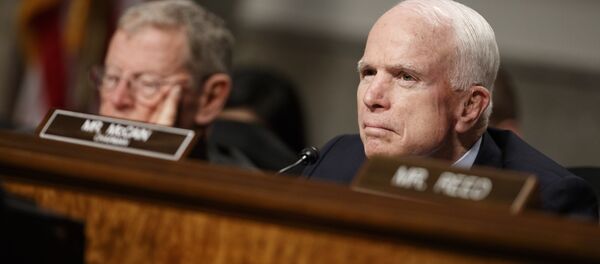 Moreover, the attack indicates President Donald Trump trusts his national security advisers and respects their input, McCain added.
A number of states, including Australia, Israel, Saudi Arabia, Turkey and the United Kingdom have already expressed their support for the attack, while Russia called the US actions in Syria an aggression against a sovereign state based on an unjustified reason.
The US missile attack late on Thursday claimed the lives of 10 people, an officer of the Syrian Armed Forces told Sputnik. The Russian Defense Ministry said that the attack left two Syrian servicemen missing, four killed, and six suffering severe injuries from the fire.