PARIS (Sputnik) — Late on Thursday, the United States launched 59 Tomahawk cruise missiles on the Syrian military airfield in Ash Sha'irat near Homs, in what, according to Trump, was a retaliation for the alleged chemical weapon use in Idlib, which Washington blames on Damascus.
"Hollande and Merkel bear full responsibility for giving Trump the unilateral power to strike who he wants when he wants," Melenchon wrote on his Twitter.
Hollande et Merkel portent l'entière responsabilité de donner à #Trump le pouvoir solitaire de frapper qui il veut quand il veut.

— Jean-Luc Mélenchon (@JLMelenchon)

7 апреля 2017 г.



Earlier in the day, Hollande and Merkel discussed the US attack in a telephone conversation and issued a joint statement, blaming Syrian President Bashar Assad for the latest development.
The US attack claimed the lives of 10 people, an officer of the Syrian Armed Forces told Sputnik. The Russian Defense Ministry said that the attack left two Syrian servicemen missing, four killed, and six suffering severe injuries from the fire. Homs Governor Talal Barazi said earlier on Friday that at least two civilians from a nearby village and five Syrian servicemen were killed.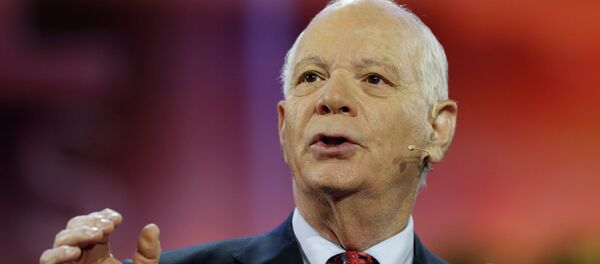 On Tuesday, the Syrian National Coalition of Revolutionary and Opposition Forces reported a chemical weapon attack in Syria's Idlib province. According to recent data provided by the World Health Organization (WHO), 84 people, including 27 children died in the suspected chemical attack.
Following the 2013 chemical weapon attack in eastern Ghouta, Syria, an incident which killed up to 1,500 people, Syria joined the Convention on the Prohibition of Chemical Weapons. In January 2016, the OPCW announced its completion of the chemical weapons disarmament in Syria. However, in June 2016, the US State Department published a report which said Syria had continued to use chemical substances against citizens and suggested the country could also stockpile chemical weapons. After the report was released, UN High Representative for Disarmament Affairs Kim Won-soo said that UN and OPCW experts still could not confirm the complete destruction of chemical weapon production facilities in Syria.
On Thursday, Syrian Foreign Minister Walid Muallem stressed that the Syrian government forces had never used chemical weapons against civilians or terrorists and would never do that.