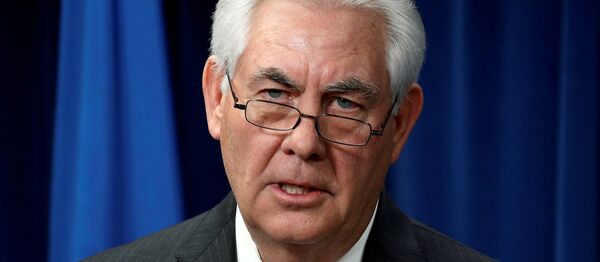 Russia will demand an urgent meeting of the UN Security Council (UNSC) in connection with the Thursday missile strike launched by the United States on a military airfield in Syria's Homs province, Victor Ozerov, the chairman of the Russian Federation Council's Committee on Defense and Security, told Sputnik.
On Thursday night, the United States launched over 50 Tomahawk cruise missiles at the Syrian military airfield in Ash Sha'irat, located about 40 kilometers (25 miles) from the city of Homs.
"Russia will first of all demand an urgent meeting of the UN Security Council. This can be regarded as an act of aggression on the part of the US against a UN state," Ozerov told Sputnik on Friday, commenting on the Thursday US attack.
"After this incident the already clouded relations with the US will somewhat worsen," Victor Ozerov told Sputnik on Friday, adding that the missile attack will likely be "a very bad example for the armed opposition in Syria, which could put under question the agreements reached with the opposition, including in Geneva."
Ozerov stressed that military cooperation between Russia and the United States could be at risk because of the Thursday strike as US had failed to communicate properly on the matter.
US Secretary of State Rex Tillerson said in a statement after the US attack that there were no discussions or prior contacts between the United States and Moscow ahead of the missile strike on the Syrian base.