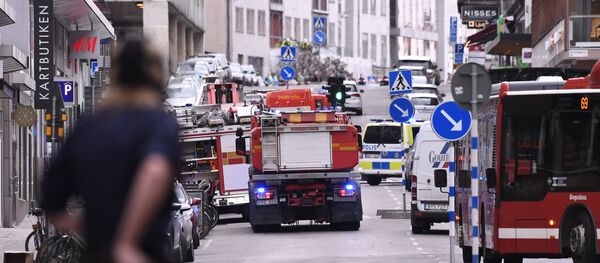 According to a report from the Aftonbladet, the still-unnamed man had some light injuries when he was taken into custody.
"One person has been arrested who may be connected with the incident," police said in a statement.
The police have confirmed that at least four people were killed in the attack. There were also at least 15 people wounded, nine of them seriously, after a hijacked beer truck was driven through a crowd in the center of town. The truck stopped after crashing into a department store.
"Sweden has been attacked. Everything points to the fact that this is a terrorist attack," Prime Minister Stefan Lofven told reporters.
Following the attack, police released a photo of the man believed to have carried it out.
"I went to the main street when a big truck came out of nowhere. I could not see if anyone was driving it but it got out of control," a witness told Sky News. "I saw at least two being run over. I ran as fast as I could from there."
Swedish police have urged people to stay away from the area.
Subway service has now been cleared to restart, but it will not be stopping at the two stations closest to where the attack took place, the public transport authority has announced.