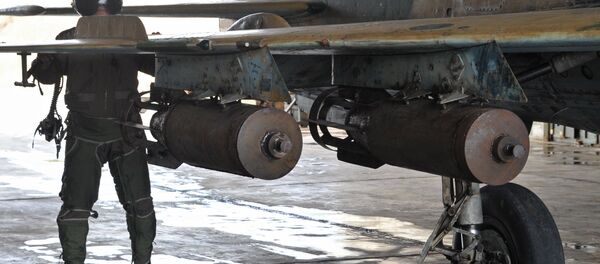 DAMASCUS (Sputnik) – The Shayrat (Ash Sha'irat) Airfield in Homs Governorate, Syria, which came under a US missile attack late on Thursday, plays a key role in supporting Syrian government forces in their fight against militants from the Islamic State (Daesh) terrorist group, Governor of Homs Province Talal al-Barazi told Sputnik.
"The Syrian army and armed forces are fighting terrorism, especially in the east of Homs. And recently significant progress has been reached, gas fields have been liberated as well as the city of Palmyra and its surroundings. This base to the east of Homs plays a key role in supporting military operations against IS, particularly in the eastern part of Homs," al-Barazi said in a phone interview.
On Thursday night, the United States launched over 50 Tomahawk cruise missiles at the Syrian military airfield in Ash Sha'irat, located about 40 kilometers (25 miles) from the city of Homs. US President Donald Trump said the attack was a response to the alleged chemical weapon use in Syria's Idlib on Tuesday, which Washington blames on the Syrian government.