MOSCOW (Sputnik) — Fifty-nine Tomahawk missiles struck the Syrian airfield at 4:40 a.m Syrian time. They were launched from the destroyers USS Porter and USS Ross in the Eastern Mediterranean. Pentagon spokesman Jeff Davis said aircraft shelters, petroleum and logistical storage, ammo supply bunkers, air defense systems, and radars were targeted.
"The damage caused to the airfield in this aggression was assessed as insignificant," Barazi told the RT broadcaster, adding he was at the airbase. "Yes, we suffered material losses but our spirit is not broken."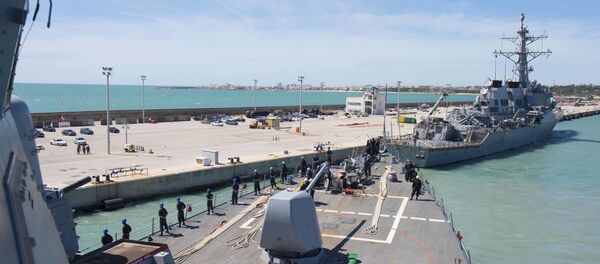 The Syrian official's remark appeared to contradict the announcement made earlier in the day by the general staff of the country's armed forces who described the damage as significant.
A Sputnik correspondent reported from the scene of the attack some hardware had been salvaged, including five Syrian fighter jets. The runway also seemed to have been spared, he said, as well as a few hangars, but eight others were taken out of service.