On Thursday night, the United States launched 59 Tomahawk cruise missiles at the Syrian military airfield in Ash Sha'irat, located about 40 kilometers (25 miles) from the city of Homs. US President Donald Trump said the attack was a response to the alleged chemical weapon use in Syria's Idlib on Tuesday, which Washington blames on the Syrian government.
"The fact is that we no longer know what goals Washington pursued when deciding to carry out these strikes, but it is univocal that they are launched de facto in the interests of Daesh, al-Nusra Front and other terrorists. In this connection, we can only express regret," Peskov said.
The United States' deadly missile strikes on a Syrian airfield damage the cause of counterterrorist efforts, Dmitry Peskov said Friday.
"So far, it can be said unequivocally that these strikes did harm to the fight against terrorism," Peskov told reporters.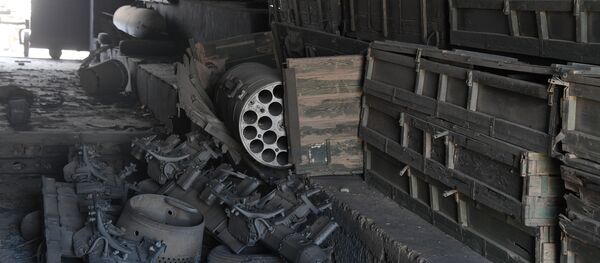 Commenting on US President Donald Trump's calls during the 2016 campaign to join forces against terrorist groups, Peskov said "everything that happened was quite the opposite."
"We deeply regret this and are very much concerned in this regard," he stressed.
Russia described the attack as an aggression against a sovereign state.
Following the US military action, Russia decided to suspend its memorandum of understanding on air safety over Syria with the United States, according to the Russian Foreign Ministry.