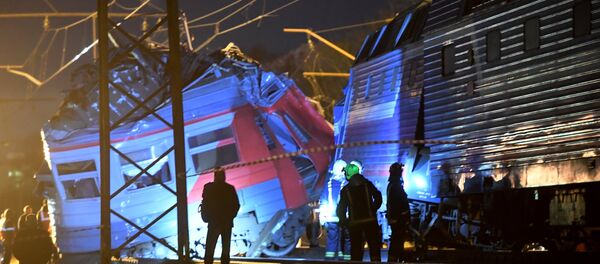 MOSCOW (Sputnik) — Russian President Vladimir Putin has ordered the Russian government to take all necessary measures to rectify the aftermath of the railway incident in western Moscow, Kremlin's spokesman Dmitry Peskov said Sunday.
"The president was informed right after the clash of a suburban train and the long-distance train … Putin ordered to take all necessary measures to rectify the situation," Peskov said.
Earlier on Sunday, the long distance train and a suburban train  collided in western Moscow. According to the Russian Investigative Committee, two railway cars of suburban train and two railway cars of long-distance train were derailed, while 20 people were injured and 16 were hospitalized.
A total of 455 people were present in the long-distance train and four people were in a suburban train, according to the committee.
Among the people, injured in the incident, were foreign citizens and children, six people were hospitalized in critical condition, Russian Minister of Emergencies and Disaster Relief Vladimir Puchkov said.