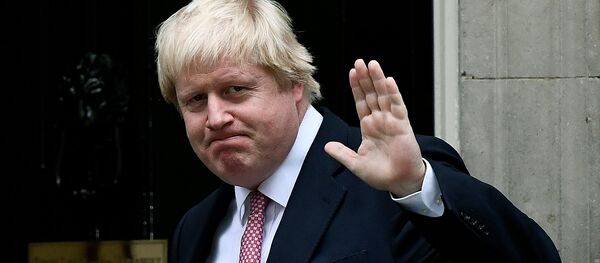 LONDON (Sputnik) – Earlier in the day, the UK government official website announced that Johnson had canceled his visit to Moscow, scheduled for April 10, due to the recent developments in Syria with the foreign secretary having said that his priority was to continue contacts with the United States and other countries in the run up to the G7 meeting.
"@BorisJohnson cancelled his visit to Moscow: theatrics for lack of argument? Safer in G7 pack?" the embassy said on its Twitter page.
​Earlier in the day, Russian Foreign Ministry's spokeswoman Maria Zakharova commented on the decision saying that stability and consistency had ceased to be a hallmark of West's foreign policy long time ago and pointing out that Russia had always advocated building stable relations, based on the international law.
Johnson's visit to Moscow was cancelled less than two days after the US missile strike against the Ash Sha'irat airbase in Syria, which was welcomed by the United Kingdom and sharply criticized by Russia.