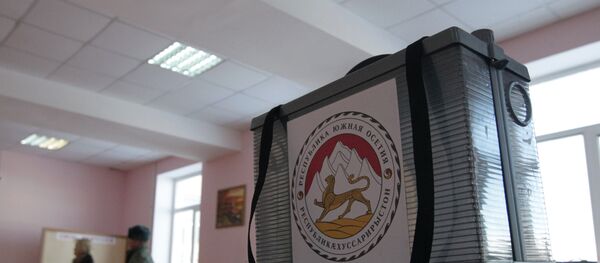 TSKHINVALI (Sputnik) — Earlier in the day, the US Department of State refused to recognize the results of upcoming elections in South Ossetia, noting that Washington sticks to the position that Abkhazia and South Ossetia are integral parts of Georgia.
"Of course, not everyone agree with what is happening. We are free and we enhance our independence, sovereignty by ourselves, and if someone's oversea patrons are against elections in South Ossetia, against the renaming of South Ossetia, we will not pay attention to it," Tibilov said at a meeting with a delegation of observers from Nagorno-Karabakh.
Tibilov noted the republic's authorities did the utmost to ensure safety and security during the elections and the referendum.
Presidential elections will be held in South Ossetia on April 9 together with a referendum on renaming the republic to the Republic of South Ossetia-the State of Alania. The candidates for the position of the republic's leader are incumbent South Ossetian President Tibilov, parliamentary speaker Anatoly Bibilov and Alan Gagloyev, State Security officer.
The breakaway republic of South Ossetia and Abkhazia declared independence from Georgia in the early 1990s. In August 2008, Georgia launched a military offensive against South Ossetia. Trying to protect local residents, many of whom had Russian citizenship, Russia sent troops to South Ossetia and engaged in a five-day war with Georgia. As a result, Russia managed to expel Georgian troops from the breakaway region and recognized independence of Abkhazia and South Ossetia. Tbilisi does not recognize the republics' independence and considers them part of Georgia.