WASHINGTON (Sputnik) — On April 4, Syrian opposition claimed Tuesday forces loyal to President Bashar Assad had used a chemical gas on people in the northwestern province, killing nearly 80 and injuring 200. Assad argued his government has no chemical weapons after agreeing to have them destroyed in 2013. He also ruled out having used chemicals against own people. 
"I give the probabilities of Syria launching the Syrian gas attack a zero probability," Black said on Friday. "I think there's absolutely no chance that they [Syrian government] did it because there is nothing on earth to gain and in exchange he would incur the wrath of the whole world. So it didn't happen. I know that it didn't happen."
Black said he defied anyone to explain a motive for why Assad would snatch defeat from the jaws of victory considering across the country the Syrian army and its allies are defeating the jihadists everywhere.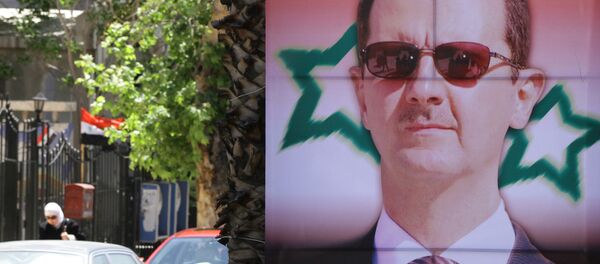 "Why on earth would the President of Syria decide to authorize a chemical attack on a handful of civilians walking down the street?" the state senator asked rhetorically.
There is no rational reason, Black added, to back accusations that Assad used chemical weapons against civilians as strategic means to defeat opposition forces.
Black explained that it is more likely the Syrian government would use chemical weapons against mass armored formations and heavily fortified enemy positions or to blunt enemy assaults into places like Hama, assuming they actually possessed the capability.
"We're [United States] not even sure he [Assad] has chemical weapons," Black stressed.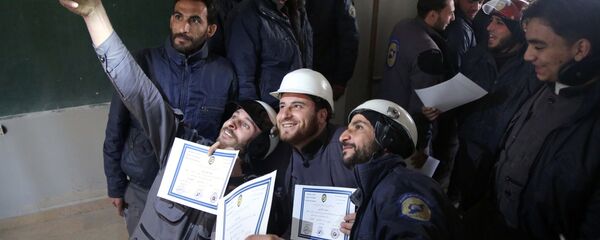 27 February 2017, 18:07 GMT
The
Russian Defense Ministry said
early Wednesday the airstrike near Khan Shaykhun was carried out by Syrian aircraft, which struck a terrorist warehouse that stored chemical weapons slated for delivery to Iraq.
US accusations related to Syria's chemical attacks are backed by evidence emanating solely from either terrorist or not independent sources such as White Helmets nongovernmental organization, Black told Sputnik.
"The United States has relied on evidence that has come solely from terrorists… There are no independent observers on the ground. One of the primary sources of information has come from the White Helmets who, as you know, have been completely compromised as an element of al-Qaeda," Black said.
Russian Foreign Ministry spokeswoman Maria Zakharova said earlier in the day that the US-UK-France-backed draft resolution on the chemical weapons in Syria is based on fake reports mosty from the White Helmets and the SOHR "which cannot be called reliable."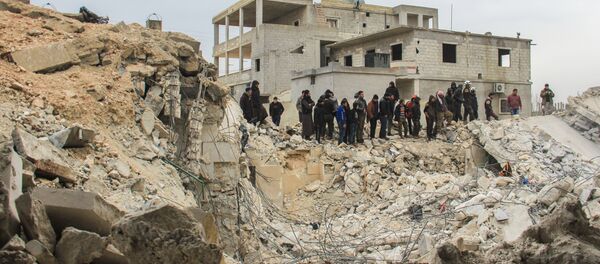 The US senator added that the United States would have a better outlook as soon as US President Donald Trump recognized the disinformation was part of a covert effort to persuade military action against other countries.
"There are elements of the Central Intelligence Agency whose sole purpose is to create propaganda to foster warfare against innocent countries," Black said.
Black referenced the United States' false claims that Iraq possessed weapons of mass destruction as a means to justify its invasion.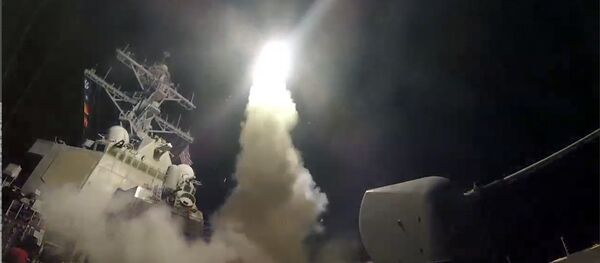 Daesh is likely to benefit from the instability caused by US airstrikes in Syria, he added. "So I think ISIS [Daesh] will take advantage wherever possible," Black said on Friday. "In some cases I think we are coordinating with them."
Black stated Daesh attacked airfields in the Syrian province of Homs shortly after the United States conducted its airstrikes against the Syrian government on Thursday.
"I'm not sure whether we coordinated here or whether they simply seized a target of opportunity and used that to advance their military goals," Black stated.
Black noted an event that took place in Deir ez-Zor in January, where the United States have attacked Syrian Army positions killing about 200 Syrian soldiers and immediately, as soon as the airstrikes were carried out, Daesh attacked and seized a number of key positions in the area.
On Thursday night, the United States launched 59 Tomahawk cruise missiles at the Syrian military airfield in Ash Sha'irat, located about 25 miles from the city of Homs. Trump said the attack was a response to the alleged chemical weapon use in Syria's Idlib on Tuesday, which Washington blames on the Syrian government.
A number of states, including Australia, Israel, Saudi Arabia, Turkey and the United Kingdom have already expressed their support for the attack, while Russia called the US actions in Syria an aggression against a sovereign state based on an unjustified reason.
Black is the elected representative for Loudoun County, Virginia, and personally met with President Bashar Assad during a visit to Syria in April 2016.