The expert stated that he is not surprised about Washington's military activities in Syria, as it is "the usual way" in which the US starts wars in other countries.
"This 'Rambo-style' behavior of the US president, unfortunately, once again puts the world in front of an accomplished fact," Wimmer said.
According to him, it is now the right time for a meeting between President Putin and US President Trump. He also expressed hope for a balanced response from Russia and its contribution to the resolution of the ongoing crisis.
"The current dramatic situation offers an opportunity for the Russian and US heads of state to meet as soon as possible. People are afraid of a global war, a Third World War, and their worries are justified. Many observers point out that the current disastrous situation is very reminiscent of the Cuban crisis. This makes it clear where we stand. And we have to put an end to it! Now there is a good chance to appeal to reason," the expert stated.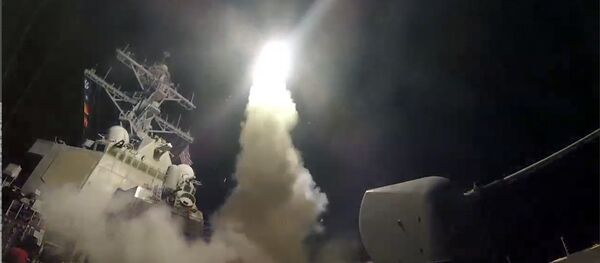 On Thursday night, the
US military launched multiple cruise missiles
at the Syrian military airfield in Ash Sha'irat, near the city of Homs. US President Donald Trump said the missile attack was a response to the alleged use of chemical weapons in Syria's Idlib Province on Tuesday.
The Russian Foreign Ministry condemned the US attack, adding that the use of chemical weapons in Idlib was impossible, as Damascus did not have such weapons. Moscow also suspended a memorandum of understanding on air safety over Syria with Washington earlier in the day due to the US attack.
Answering the question of whether US President Trump is likely to pursue a similar strategy in other conflicts worldwide, Wimmer said:
"We know that since the end of the Cold War, the US has chosen a new consistent strategy: they are striving for global domination. They even talk about it openly."
"One can only look with deep respect at Moscow that has such a sensible president, and not such an unpredictable head of state as Trump. We can assume that US actions can make many countries feel provoked. This is a fact," the expert stressed, adding that further escalation should be prevented as soon as possible.