Trump's threatened wall, to be constructed on the 1989-mile border between Mexico and the US, could be a non-starter, according to The Hill, as prominent Republicans have quietly dropped preliminary funding for the structure that would have been included in the upcoming April 28 budget bill.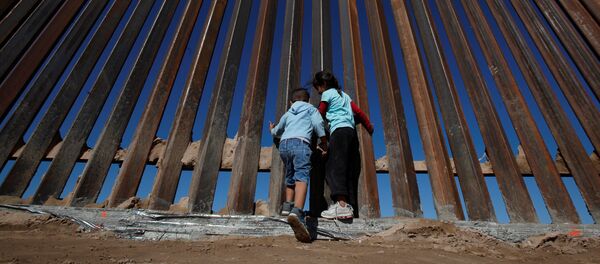 Suggesting that the decision to drop funds for the Department of Homeland Security budgetary line item was a pragmatic one, Speaker Paul Ryan (R-WS) asserted that the hotly-contested border wall between the two nations would still be built, but the cash would be allocated at a later date.
But the battle is only getting started, as lawmakers on both sides of the political fence have recoiled before the stunning $22-$40 billion projected cost of the gigantic infrastructure project.
Elected Republicans in border districts, including representatives Will Hurd (R-TX) and Martha McSally (R-AZ), are particularly alarmed, as the huge pricetag, seen to be taking away from more urgent needs such as US highway and rail systems, is likely to result in political fallout, massive disruption of communities and the elimination of necessary funds for key social programs, including education and health care.
"We recognize the need for robust border security and infrastructure to ensure public safety and increase cross border commerce," Hurd and McSally said recently in a letter to the administration. They cautioned, however, "We also have an obligation to be good stewards of taxpayer dollars."
Anger about diverting urgently needed funds to construct a wall that the majority of Americans consider to be damaging to both domestic and international relations, is more pointed among Democrats.
"It's anywhere between $26 billion and $40 billion to build it, you can't drive on it, you can't use it for anything, it doesn't do anything to drive economic growth and jobs in America beyond the building of a wall itself, and it probably wouldn't be built using union jobs to begin with," said House Democratic Caucus chairman Joseph Crowley (D-NY), in a statement.
Recent polling on US sentiment regarding the wall has revealed that Americans are overwhelmingly opposed to its construction.
In February a Pew Research poll revealed that some 67 percent of voters participating in the survey were against building the wall, while just 35 percent voiced support.
Nancy Pelosi (D-CA), the House Minority Leader, on Thursday said, "I would hope that they wouldn't try [to fund the construction of the wall] because… the American people don't even support it," according to The Hill.
In recent comments Pelosi added, "To put a wall there is really an insult and really an ineffective insult at that."
Recognizing that it is in for a fight, the Trump administration, in the form of the US Department of Justice, has included in its 2018 budget a request for the funds to hire "20 attorneys to pursue Federal efforts to obtain the land and holdings necessary to secure the Southwest border and another 20 attorneys and support staff for immigration litigation assistance."