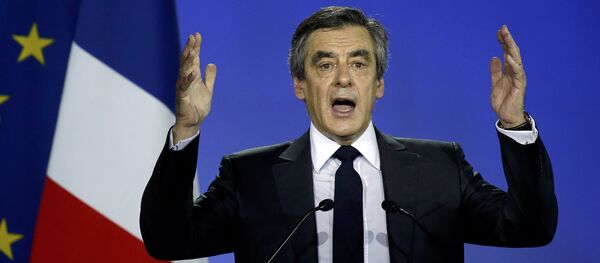 MOSCOW (Sputnik) — The leader of left-wing political movement La France Insoumise (Unsubmissive France) Jean-Luc Melenchon is projected to gain the third place in the first round of French presidential election, for the first time surpassing the level of support of The Republicans' party nominee Francois Fillon, the latest poll showed on Sunday.
The share of voters looking to back for Melenchon in the first round has increased by six percentage points up to 18 percent since March, a Kantar-Sofres-Onepoint poll, carried out for Le Figaro newspaper, the LCI channel and the RTL radio station, showed. Fillon enjoyed the same 17 percent of support as in the previous month.
According to the pollster, French voter support for National Front (FN) party leader Marine Le Pen and independent candidate Emmanuel Macron went down by 2 percent each. Both candidates are expected to receive 24 percent of votes.
Le Pen is then likely to come behind her three main rivals in the second round. The poll also showed that Macron would win the run-off against Fillon.
The survey was conducted on April 5-7, sampling 1,515 voters. French presidential elections are due to take place in two rounds on April 23 and May 7.