CAIRO (Sputnik) – States that are supporting terrorism must be called to account, Egyptian President Abdel Fattah Sisi said on Sunday in a televised address after deadly terror attacks in the cities of Tanta and Alexandria.
"The states that are supporting terrorism must be brought to account," he said.
The president pointed out that the security services boosted their activities to persecute the criminals adding that the Egyptian people are able to defeat terrorism.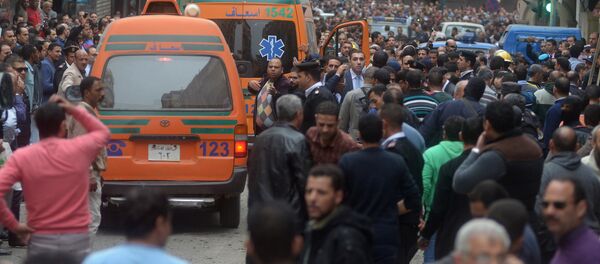 Sisi also called on media to cover emergency situations in Egypt responsibly without inflicting pain on people.
Earlier in the day, Sisi declared a three-month state of emergency and announced creation of the Supreme Council on fighting terrorism.
A powerful explosion occurred on Sunday during worship at the church in Tanta, Gharbia province north of Cairo, leaving from 50 to 70 people injured and at least 30 people killed. Following the attack, two blasts were staged at a church in Alexandria killing at least 18 people, including four police officers, and injuring more than 40 others.
The Islamic State (Daesh) terror group claimed responsibility for the attacks.