MOSCOW (Sputnik) — Prior to the opening of the polling stations the security was beefed up. At the same time, the republic's border with Georgia will remain closed until Monday.
The Central Election Commission (CEC) said that turnout had been increasing and it was expected to reach over 50 percent.
The election is monitored by over 80 observers.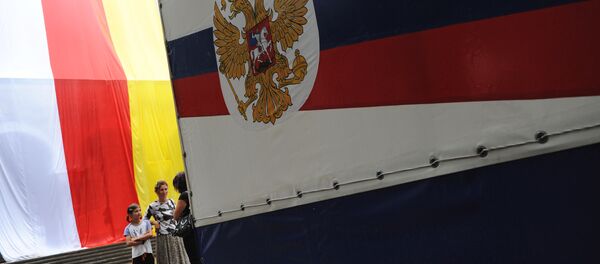 The candidates for the position of the republic's leader are incumbent South Ossetian President Leonid Tibilov, parliamentary speaker Anatoly Bibilov and Alan Gagloyev, State Security officer.
Tibilov first proposed to rename the republic to South Ossetia-Alania in analogy with the Russian constituent of North Ossetia-Alania, while after numerous discussions in February the president scheduled a referendum on renaming South Ossetia to the Republic of South Ossetia-the State of Alania.
The breakaway republic of South Ossetia and Abkhazia declared independence from Georgia in the early 1990s. In August 2008, Georgia launched a military offensive against South Ossetia. Trying to protect local residents, many of whom had Russian citizenship, Russia sent troops to South Ossetia and engaged in a five-day war with Georgia. As a result, Russia managed to expel Georgian troops from the breakaway region and recognized independence of Abkhazia and South Ossetia. Tbilisi does not recognize the republics' independence and considers them part of Georgia.