New Delhi (Sputnik) — For the second day, the Chinese government did not mention the support provided by the Indian Navy during the rescue operation.
"According to what we have learnt from the military on April 8 at 5 PM the 25th convoy of Chinese navy which was conducting the escort mission in the Gulf of Aden in Somali waters received reports from the UKMTO (United Kingdom Marine Trade Operation) about the hijack of Tuvaluan ship OS35. The fleet vessel Yulin set out for the area immediately and rescue operation started early morning on April 9. Under the cover of helicopters, special force members of the navy boarded the ship and rescued 19 (Filipino) crew members on broad. Both the ship and the crew members are safe now," said Chinese Foreign Ministry spokesperson Hua Chunying.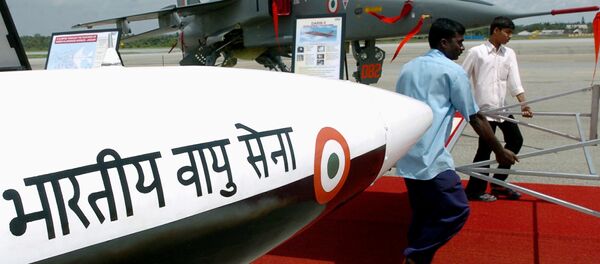 24 February 2017, 13:08 GMT
​Earlier after the operations, the Chinese Navy also took full credit for the efforts to rescue the hijacked ship. Nevertheless, the Indian Navy has provided proof of joint rescue operation with Chinese naval force on Monday. Indian Navy has posted a picture on its twitter handle which shows an Indian helicopter flying over Chinese naval vessels.
On Sunday, the Indian Navy had claimed that the ships Mumbai, Tarkash, Trishul and Aditya proceeding on deployment to the Mediterranean and passing through the Gulf of Aden, responded to the call and rapidly closed the merchant vessel by the early hours of April 9.
The Indian Navy is tight-lipped on the Chinese response to this joint rescue effort.
However, many experts believe that the recent face-off between India and China on the Tibetan spiritual leader Dalai Lama's visit to the disputed border region of Tawang may have been the cause for such adverse response.