HMEYMIM (Syria) (Sputnik) – The Russian center for Syrian reconciliation has carried out seven humanitarian operations in Syrian provinces of Latakia and Aleppo in the past 24 hours, delivering 5,5 tonnes of aid to more than 1,500 Syrian citizens, the center said in its daily bulletin.
"Within [the] last 24 hours, the Russian Centre for reconciliation of opposing sides has held seven humanitarian events in the Aleppo (six) and Latakia (one) provinces …Total weight of humanitarian aid provided to the Syrian population has reached 5.5 tonnes," the bulletin read.
Some 1587 Syrian citizens have received the humanitarian aid in the past 24 hours, according to the bulletin.
The center said that in the meantime the United Nations had provided food, medical, psychological and legal assistance to the Syrian people as well as had continued to carry out reconstruction works of the infrastructure and to supply citizens with temporary accommodation.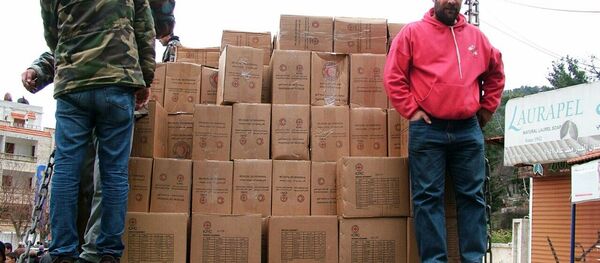 Russia has been providing Syrian civilians with medical help and regular humanitarian aid deliveries, including food, medicine, items of first necessity and items for children, to help them survive until peace is restored.
Syrian residents are in dire need of assistance amid continuing fighting between the Syrian government forces and various opposition and terrorist groups, such as the Islamic State (Daesh), outlawed in Russia and many other countries.
According to the UN data, since 2011 nearly 6.3 million Syrian people have been internally displaced and 4.9 million people, mostly women and children, have been forced to seek refuge. About 13.5 million people require humanitarian assistance in Syria.