TSKHINVALI (South Ossetia), (Sputnik) — Nearly 80 percent of South Ossetian voters back the name-change of the partially recognized state to "Alania," the head of South Ossetia's central election commission told reporters Monday.
"On the referendum, 78 percent voted in favor, 20 percent against," Bella Plieva said, underscoring that these are preliminary results.
Plieva said final results would be available within five days.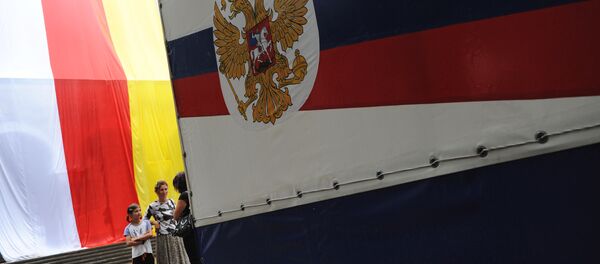 South Ossetian President Leonid Tibilov first proposed to rename the republic to South Ossetia-Alania in analogy with the Russian constituent of North Ossetia-Alania. After numerous discussions in February the president scheduled a referendum on renaming South Ossetia to the Republic of South Ossetia-the State of Alania.
The breakaway republics of South Ossetia and Abkhazia declared independence from Georgia in the early 1990s. In August 2008, Georgia launched a military offensive against South Ossetia. Trying to protect local residents, many of whom had Russian citizenship, Russia sent troops to South Ossetia and engaged in a five-day war with Georgia. As a result, Russia managed to expel Georgian troops from the breakaway region and recognized independence of Abkhazia and South Ossetia. Tbilisi does not recognize the republics' independence and considers them part of Georgia.