The Guantanamo Bay Detention Camp (GTMO, or "Gitmo"), operated by the US Navy, predominantly houses suspected terrorists. Each suspect is mandated to be assigned a military lawyer to follow through the long, complex process of ascertaining innocence or guilt. Those military defense lawyers, while working on their assigned cases, have been forced to live and work in toxic environments, according to McClatchy.
Repeated testing has shown dangerous levels of lead, formaldehyde, asbestos, mold, mercury and benzoapyrene at Camp Justice, the assembly of trailers on an unused airstrip at Gitmo that act as a war court complex in which the Navy's legal team works. Calls to address the problem have gone unheeded by the Navy, even after at least seven healthy service legal personnel were diagnosed with cancer and one died of his illness, all within just a few years.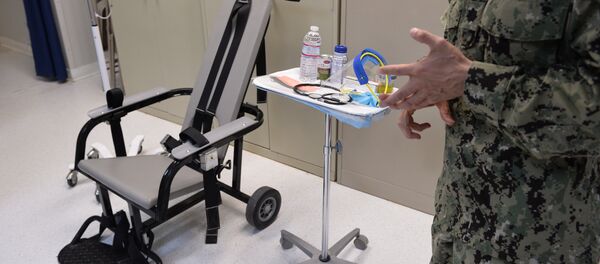 According to Daniel Small, an attorney working pro bono with Navy lawyers in their suit against the Pentagon, "Soldiers, sailors, Marines who have signed up to do some of the hardest legal work that exists, […] these people deserve better."
"We should be making sure that we are protecting them," he added, "taking care of these soldiers who have signed up to a fairly thankless task."
In 2015, a former Gitmo lawyer requested that the Pentagon investigate connections between the facility's trailer-park work and housing environment and the unusually high number of cancer diagnoses, including stomach, brain, colon, and cancer of the appendix, found in the legal team stationed there.
One plaintiff, who worked as a military lawyer representing detainees at Gitmo for over five years, stated that he was shocked by the working conditions at the facility.
In 2012, the former military lawyer stated that he saw "rat feces and mold and just general filth in the office because nobody seemed to be paying attention," adding that, after bringing their concerns to the brass, "we weren't successful in getting much of a response," according to McClatchy.
Pro bono attorney Small stated that the dangerous chemicals were "in the air that's breathed all day long by people working and living in those spaces, even though it was determined it was above EPA screening levels."
The Navy's promised 2015 final report on the carcinogenic health risks at the facility was never completed, according to Small, who stated that, "This is a long time for these kinds of serious conditions to go unaddressed, and for some reason the Navy does not seem to have any urgency about this."
The Gitmo military legal defense team nonetheless continued to do their assigned work, in spite of the threat to their health.
"They have made the tough choice to defend their clients even when it creates risks to their health," said Small, who added, "But you have a professional obligation to show up and do your job in the Camp Justice offices, and appear in a Camp Justice courtroom."
Following the implementation of the Bush administration's infamous torture and rendition program in 2002, the detention center prison population reportedly swelled to at least 780 terror suspects.
Of those, just 41 are still in the camp, but US President Donald Trump has avowed that he will keep it open, and fill it with more inmates.