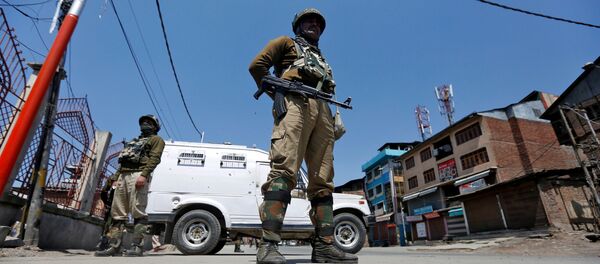 New Delhi (Sputnik)
–
In the nine cases that have come to light, the agencies found that the Army officers drew money from the exchequer through forged documents to reimburse the rent paid by Army personnel. The agencies are questioning how the money was paid.
"There are altogether nine reported cases relating to alleged payment of rent for land in Pakistan Administered Kashmir. Out of these cases, the State Vigilance Organization has filed FIR in one case and CBI has filed FIR in two other cases. Remaining cases are under confidential verification by CBI," Defense Minister Arun Jaitley told the Indian parliament.
In many cases, rent had been paid to fictitious owners for several years. For example, Army had paid rent for 13 hectares in Rajouri till September 2015. But CBI investigation has found that land is actually situated in Pakistan-administered Kashmir. Seven such cases have been unearthed by the vigilance department. "After the investigation, it was concluded that revenue documents were forged by the State Revenue officials and the land was either administered by Pakistan or is located in no-man's land," said the Indian defense ministry.
The defense ministry has occupied around 687,965 hectares of land across the country for establishing cantonments, offices, residential property in various parts of the country. But in recent years, several scams such as the Sukna land scam, Srinagar airport land scam, the Adarsh society scam have been unearthed by agencies where it has been found that Army officers were involved.
Both India and Pakistan claim Kashmir to be their territory in the dispute which harks back to the Partition of British India in 1947. Though the two countries have fought three wars since then, the dispute is far from over.
Some local residents in Indian Administered Kashmir, call for greater autonomy or even independence from India.
After a spurt in militancy was put down in the 1990s, life in Indian-administered Kashmir was reasonably peaceful until July 2016, when the killing of Burhan Wani, the leader of an outlawed Kashmiri separatist group, by Indian forces led to the resurgence of street protests. The region has been on the boil since then.

Never miss a story again — sign up to our Telegram channel and we'll keep you up to speed!