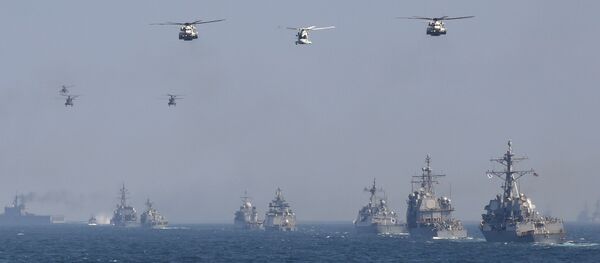 In an interview with
Sputnik China
, expert Cheong Seong-Chang of the Seoul-based Sejong Institute said that did not rule out that the US Terminal High Altitude Area Defense (THAAD) system could be bought by Seoul from Washington, given that after the deployment of the elements of THAAD in South Korea, it will be extremely difficult to withdraw them.
The withdrawal would help Seoul not only independently manage retaliatory measures to prevent a North Korean threat, but also develop ties with China, according to Cheong.
In July 2016, Washington and Seoul reached an agreement on placing the THAAD system on South Korean soil. In early March, the THAAD deployment began in response to North Korea's ballistic missile tests and despite China's strong opposition to the move.
"South Korea's economic damage, caused by China's negative reaction to the THADD deployment, is estimated at 14 billion dollars per year, and if one bought out THAAD for 1.3 billion dollars, it would be a very pragmatic deal," Cheng told Sputnik China.
He said that "if we go from the assumption that THAAD's only goal is to detect and neutralize North Korean missiles, then there are no reasons that make it impossible for South Korea to purchase these US missile systems."
Cheng also said that although "it is extremely important" for Seoul to maintain an alliance with the United States, it is dangerous to rely entirely on this alliance when it comes to South Korea's security, because it will only lead to increased opposition from Pyongyang and the deterioration of relations with China.
"If the international community will only refer to tightening sanctions to resolve the North Korean problem, inter-Korean relations will continue to deteriorate and the tension will grow. The new South Korean government should do its best to again turn the Korean problem into a domestic issue rather than an international one, and it is Seoul that should lead the process of solving it," he added.
Speaking to Sputnik China, Professor Lee Hyejeong from Seoul-based Choongang University recalled, for his part, that a decision to deploy elements of the THAAD system in South Korea had swiftly been announced by the South Korean Defense Ministry and the US Commander-in-Chief, in a move that was made without there having been a study of the issue.
"So it means that it is the US Commander-in-Chief and the Pentagon that will bear responsibility for the economic and diplomatic consequences of this decision," Lee pointed out.
Separately, he said that "even if North Korea violates the decisions of the UN Security Council, the US will have no right to attack the North and to unleash a war on the Korean Peninsula."
Last week, South Korean National Defense Ministry spokesman Moon Sang-gyun dismissed previous media reports on putting off the deployment of THAAD elements on South Korean soil due to political considerations.
The earlier reports on THAAD's deployment in South Korea, in particular, pointed to the possibility of the process being put off until after the May 9 presidential election in South Korea.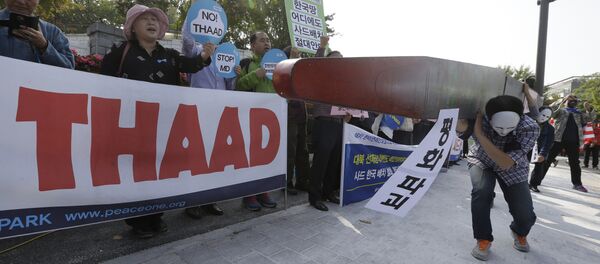 In late March, Kim Haeseon, a South Korean expert on China, told Sputnik that what is being called "China's retaliation" against the THAAD deployment in South Korea is largely exaggerated and has been instigated by the South Korean media.
According to him, Beijing's response has been wildly exaggerated due to South Korean media outlets, which misinterpret the Chinese media reports about the Chinese politicians' security concerns over THAAD.
Never miss a story again — sign up to our Telegram channel and we'll keep you up to speed!