WASHINGTON (Sputnik) — Boeing has signed a more than $8 million contract to provide engineering and training to the US Navy and 24 allies for the Harpoon sea-based missile system, the Department of Defense announced in a press release.
"The Boeing Company [of] St. Louis, Missouri is being awarded $8.3 million for… contract… in support of the Harpoon and Standoff Land Attack Missile-Expanded Response missiles," the announcement said on Tuesday.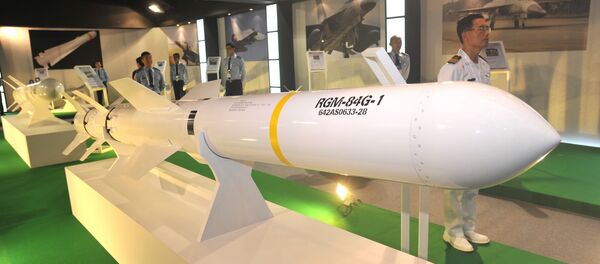 14 February 2017, 03:54 GMT
Boeing will work with the US Navy and Brazil, Chile, Israel, South Korea, Japan, Australia, Canada, Turkey, United Kingdom, Malaysia, Taiwan, Singapore, Bahrain, Egypt, Kuwait, Oman, Saudi Arabia, United Arab Emirates, Denmark, Germany, India, Netherlands, Portugal and Belgium, the release said.
The Harpoon is designed for both stand-off land-strike and anti-ship missions and uses Global Positioning System-aided guidance system to find its way to a target, according to published reports.
Work is expected to be completed in December 2019, the Defense Department added.