Earlier, Tillerson met with Lavrov for bilateral talks.
The US Secretary of State Rex Tillerson arrived in Moscow on April 11. He became the first representative of the Trump administration to come to Russia.
"Russian President Vladimir Putin is meeting with the US Secretary of State Tillerson and Russian Foreign Minister Lavrov in the Kremlin," Peskov told Sputnik.
Peskov refrained from revealing what the President discussed with the diplomats.
Previosly, the Kremlin declined to confirm whether Putin would be able to meet with Tillerson.
"I cannot confirm this yet," Peskov said when asked to comment on Russian media reports citing sources that Putin would meet Tillerson on Wednesday.
The meeting comes at a time of hightened tensions between the US and Russia following the attack on a Syrian airbase last week. The US launched 59 Tomahawk cruise missiles at the Syrian military airfield in Ash Sha'irat near Homs in retaliation to what Washington claims to have been a chemical attack carried out by Syrian government in Idlib province.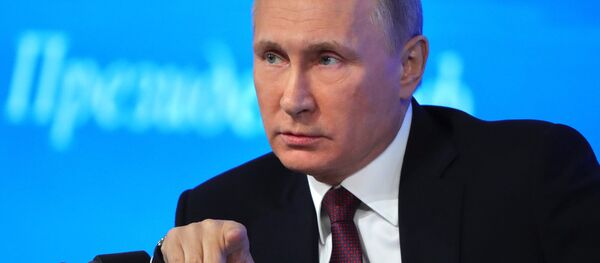 The Russian Defense Ministry said on April 5 that the airstrike near Khan Shaykhun by the Syrian air force hit a terrorist warehouse that stored chemical weapons slated for delivery to Iraq, and called on the UN Security Council to launch a proper investigation into the incident.
Russian President Vladimir Putin said April 6 that groundless accusations in the chemical weapons incident in Syria's Idlib were unacceptable before the investigation into the matter had been carried out.
Earlier on Wednesday, Russian Foreign Ministry spokeswoman Maria Zakharova said the US missile strike on Syria is undermining peace process in the country.