MOSCOW (Sputnik) — During a briefing at the White House on Tuesday, Spicer tried to explain how egregious Assad's alleged use of gas was by claiming that not even Hitler used chemical weapons on his own people. The spokesman though acknowledged that Nazis did use gas at "Holocaust centers."
"I was obviously trying to make a point about the heinous acts that Assad had made against his own people last week, using chemical weapons and gas. Frankly, I mistakenly made an inappropriate and insensitive reference to the Holocaust, for which there is no comparison. And for that I apologize. It was a mistake to do that," Spicer in an interview with CNN's Wolf Blitzer.
Spicer's remarks triggered sharp criticism, while US House of Representatives minority leader Nancy Pelosi even called for firing him for downplaying horror of Holocaust.
On April 4, the Syrian National Coalition of Revolutionary and Opposition Forces reported a chemical weapon attack in Syria's Idlib province. According to recent data provided by the World Health Organization (WHO), 84 people, including 27 children died in the suspected chemical attack.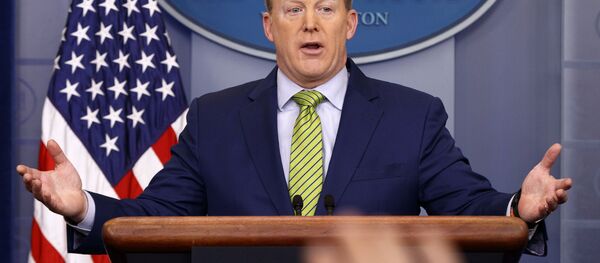 The Syrian foreign minister denied the government's involvement in the Idlib incident, saying it had never nor would it ever use chemical weapons on either civilians or terrorists operating in the country.
The Russian Defense Ministry said on April 5 that the airstrike near Khan Shaykhun by the Syrian air force hit a terrorist warehouse that stored chemical weapons slated for delivery to Iraq, and called on the UN Security Council to launch a proper investigation into the incident.
Late on April 6, the United States carried out a cruise missile attack on the Syrian military airfield in Ash Sha'irat, located in the vicinity of the Homs city. US President Donald Trump said the attack was a response to the reported chemical weapon use in Idlib, for which Washington put the blame on the Syrian government.